'The Challenger Disaster' star Bruce Greenwood slams lack of government transparency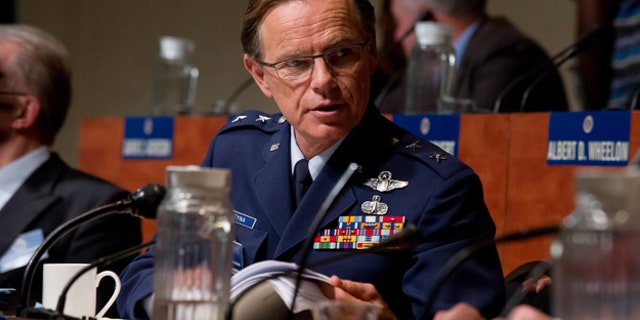 LOS ANGELES – This weekend the Science Channel and Discovery Channel simulcast the Science Channel's first scripted feature film, "The Challenger Disaster." The movie spotlights the story of Nobel Prize-winning scientist Dr. Richard Feynman (William Hurt) and his quest to find the cause of the 1986 Challenger explosion, which killed its seven-person crew before millions of Americans watching on TV.
But Feynman isn't its sole focus. "The Challenger Disaster" also portrays Air Force Gen. Donald Kutyna -- played by Bruce Greenwood -- a Feynman ally who helped him get to the truth.
"I was really surprised by the idea that despite having the truth of what really happened, people thought that if they made complaints – and these were educated, bright, motivated people – that they would lose their jobs and have their legs cut off," Greenwood told FOX411. "There was this compelling culture of fear that pervaded at the time. If you reveal flaws in something that is publicly funded, you were in trouble."
Greenwood also pointed out that while 27 years may have past, the government still has the same dangerous, results-orientated mentality.
"Almost 30 years later and we're still looking at a government that is anything but transparent. We have a Congress that wants results by saying what we want to hear," he continued. "Then, like now, politics set the stage for people not to say the truth… They want visible results, but maybe need to do a little more research on things first. And any whistleblower now has to expect they'll be diminished."
Immediately following the national tragedy, Dr. Feynman was selected by William Robert Graham, one of his former students and NASA's acting administrator, to lend his skills to the Presidential Commission assigned with investigating the disaster's cause. Although initially reluctant to participate, Feynman followed his scientific instincts throughout the investigation, and was unafraid to raise questions and point out flaws despite pressures from several commission members.
Ultimately, he determined that two of the shuttle's O-rings failed during the launch, and produced a report to then President Ronald Reagan, independent of the commission's report, concluding that the O-rings were not as pliable as initially thought.
"(My character) Kutyna has seen the film and feels strongly that it is a good representation of what happened," Greenwood added. "A tragedy happened and there was a lot of pointing fingers, but Dr. Feynman was famous for his curiosity. He was relentless in his pursuit to uncover the truth."
"The Challenger Disaster" airs on Science and Discovery on Saturday.