'The Big Bang Theory' recap: The Fermenation Bifurcation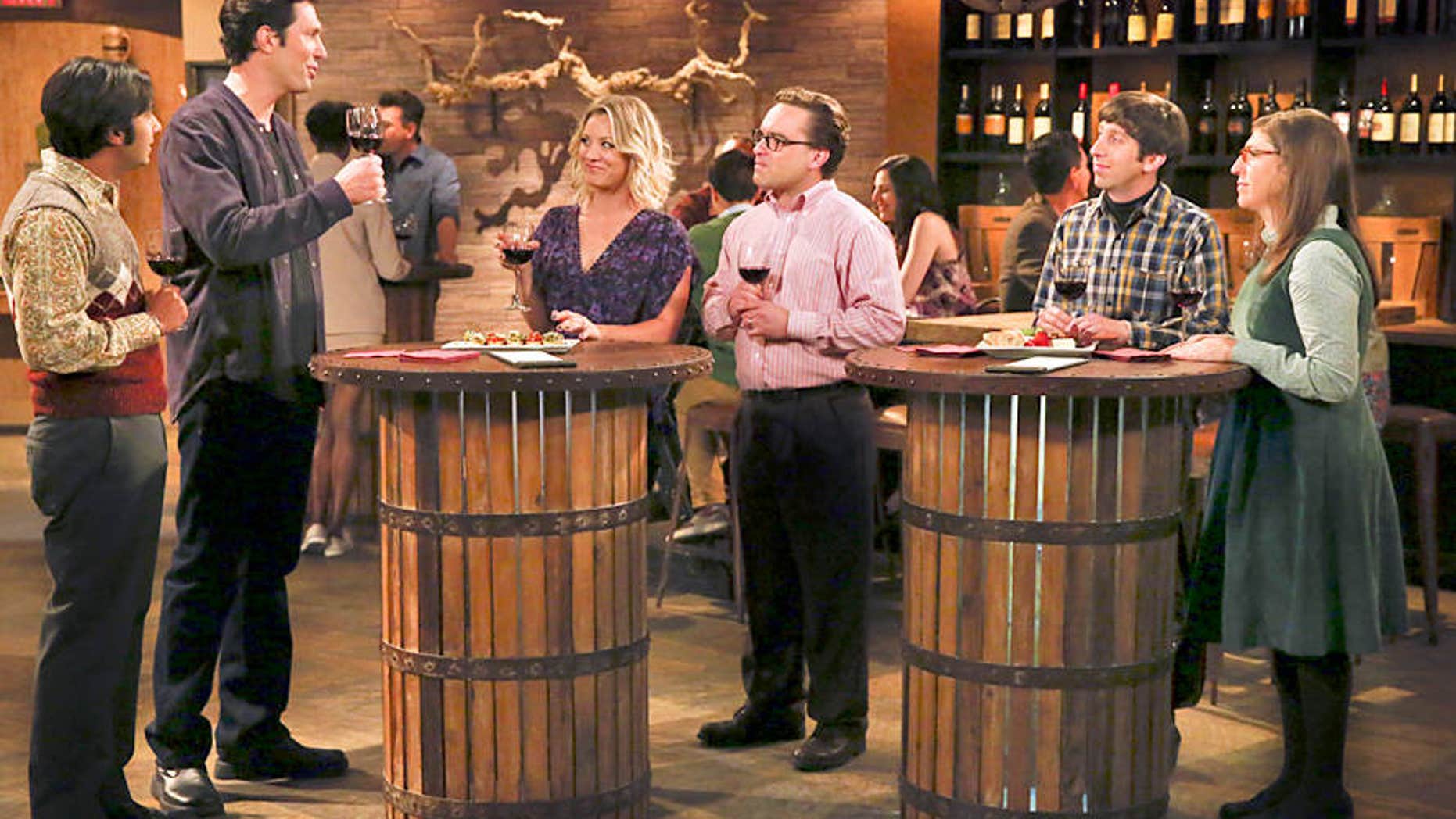 The "Big Bang" gang is ready to get its booze on. Sort of.
Penny has won a night of wine tasting from her office and wants everyone to come along.
Leonard, Raj, Howard and Amy are up for the night out, but Bernadette can't drink now that she's pregnant and Sheldon…. Well, as he says, "I like my grapes the old fashioned way — in a juice box."
Sheldon's been avoiding roller coasters, caffeine and runny eggs for years, so it would only seem natural for him to spend that evening entertaining a mother-to-be, who is now restricted from partaking in those things as well.
With permission to bring a date, Raj must now decide which of his two "non-exclusive" girlfriends will get the nod.  He phones Claire, but she is nervous about finally meeting his friends. "People meet people all the time and it isn't weird," he tells her. "I met Bon Jovi once, which you would think might be weird, but it turns out, (he is a) total sweetheart."
And that settles it. Claire it is!
Leonard, meanwhile, realizes he knows almost nothing about wine. So he prepares for the event using a scratch and sniff book.
Things get off to a bit of an awkward start when Howard and Amy are the first to arrive at the restaurant where the event is being held.
They haven't hung out alone for three years. Luckily, the rest of the crew arrives in time for a quick request from Raj: "When Claire arrives, don't tell her about his other woman.
Then this twist:  Penny spots her old boyfriend, Zack, across the room.  She doesn't want to talk to him, but he comes over and joins the conversation.  He is surprised to see that Penny and Leonard got married.
Zack seems to understand little about science, but asks Leonard and Howard to explain the new navigational system invention they are working on.  He is perplexed as to why they haven't considered a military use for the invention.
Back at Sheldon's, Bernadette shows up with a bottle of sparkling cider for their "Fetus Friendly Festival of Fun."
Sheldon starts by sharing the story of how, as a child, he swallowed a toy locomotive.  "I guess you could say (trains) gave me a sense of calm in a world that didn't," he reveals.  "Other than when they are shoving through your bowels, these things are magic."
Next up, Sheldon displays a half dozen different ways to make toast before inviting/forcing Bernadette to play Dungeons and Dragons.   She ends up having fun and Sheldon invites her back to play again.
"Anytime you need a break from being Bernadette The Pregnant, Bernatrix The Warrier Queen is here waiting," he says — but only until the third trimester. "I can't risk getting amniotic fluid on my spot (on the couch)."
At the restaurant, Zack is upstaging Raj by complimenting Claire and wanting to know why she is still being introduced as "a friend."  When they rejoin the group, Raj inadvertently lets it slip that he is seeing other women.
The next morning, Leonard asks Sheldon if he has ever thought about the military applications for his invention.
Sheldon responds that he has discussed it with two friends that Leonard has never met.
"Friends are like toilet paper," he explains.  "It's good to have extras under the sink."
Only one more episode remains in season nine.
"The Big Bang Theory" airs Thursdays at 8:00 PM on CBS.