'The Bachelor' recap: Juan Pablo meets the ladies, gets advice from Sean Lowe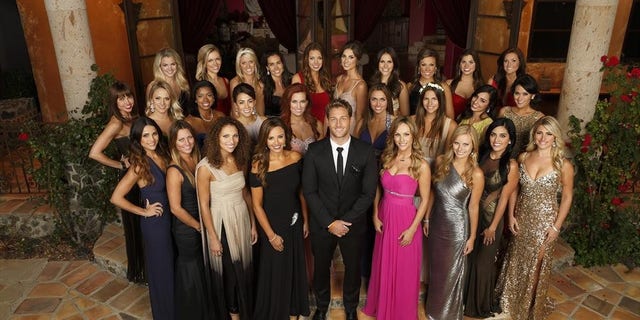 In part two of the premiere of "The Bachelor" Monday night, Juan Pablo had a heart-to-heart with a former Bachelor and finally met the 27 women who will be vying for his heart.
And boy, are they some of the most interesting contestants ever.
Lacy Faddoul, from Antelope Acres, Calif., grew up in a family with mentally disabled siblings and now owns her own nursing home—at the age of 25.
Then there's Lucy Aragon, from Santa Barbara, Calif., who showed up barefoot and lists her occupation as "free spirit."
And that's not even the wildest "job" among the ladies—Kelly Travis is a "dog lover."
Yup. And she brought her dog in the limo with her.
Lauren Solomon, 26, a music composer, opted out of the limo ride and instead wheeled a piano up the driveway to play Juan Pablo a song.
Atlanta resident Andi Dorfman is a 26-year-old assistant district attorney. Juan Pablo could barely keep his mouth closed while talking with Andi during their first meeting, muttering "wow" over and over.
Clare Crawley, 32, a hairstylist from Sacramento, Calif., exited the limo with a pillow stuffed in her dress, pretending to be pregnant. An obviously shocked Juan Pablo did not pick up on the joke right away, which resulted in an awkward exchange.
Before meeting the women, Juan Pablo received a visit from former Bachelor and soon-to-be groom Sean Lowe to get his advice for the season.
"You're going to develop strong feelings for more than one person at one time," Sean said. "You're going to freak out a little bit. The only thing I could do is trust my gut."
And don't kiss someone in front of the other girls, he added.
"I want you to avoid the mistake that I made," Sean said laughing.
Juan Pablo told Sean he was feeling anxious about meeting the women, especially because of how bad he is at remembering names.
Wow, is he ever.
Juan Pablo repeatedly asked the women their names throughout the night after they had already introduced themselves. Then, at the rose ceremony, he called up one woman and the wrong woman came up thinking her name was called. Ouch.
In another uncomfortable moment, Juan Pablo decided to give the "first impression rose" to Sharleen Joynt, 29, an opera singer, who set herself apart from the other women with her maturity and elegance.
As Juan Pablo snuck away to grab the rose, a testimonial showed Sharleen confessing she did not feel much of a connection with Juan Pablo and was unsure if they even had a chance for a future. She reluctantly accepted the rose and the other women quickly began to grumble, picking up on her apparent lack of appreciation for the coveted prize.
"The Bachelor" resumes with another special next Sunday on ABC, showing extended footage of the women after the first rose ceremony and of Juan Pablo crashing fans' viewing parties.