Teresa and Joe Giudice to continue filming 'Real Housewives' until sentencing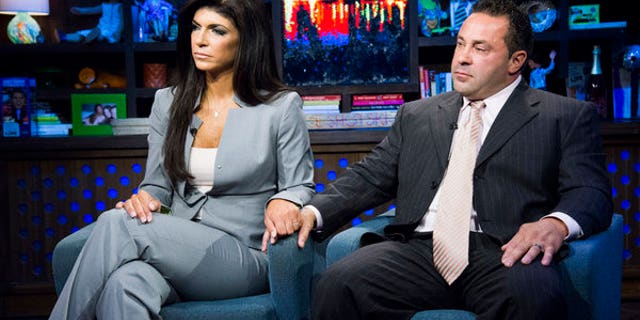 Teresa and Joe Giudice may be facing prison time, but that doesn't mean Bravo is distancing themselves from their standout "Real Housewives of New Jersey" stars.
A rep for the network confirmed to FOX411 that the drama-filled reality show is currently filming its sixth season, and a source added that the Giudices are definitely part of the latest installment of the series.
In court on Tuesday, Teresa Giudice's lawyer stated that she plans to continue working on the series until her sentencing on July 8.
TMZ reported that the couple's legal woes will take center stage during the upcoming episodes and that the network plans to wrap filming of the entire season before the duo is sentenced.
On Tuesday, they both pleaded guilty to conspiracy to commit mail and wire fraud and three types of bankruptcy fraud. Joe Giudice also pleaded guilty to failing to file a tax return for 2004, though he acknowledged he didn't file taxes on income of approximately $1 million between 2004 and 2008.
They had been scheduled for trial on more than 40 counts and had unsuccessfully sought separate trials.
Teresa Giudice said in a statement read by her lawyer, Henry Klingeman, that she takes responsibility "for a series of mistakes I made several years ago" and said she will make a statement to the court when the couple is sentenced.
"I will describe the choices I made, continue to take responsibility for my decisions and express my remorse to Judge Salas and the public," she wrote. "I am heartbroken that this is affecting my family — especially my four young daughters, who mean more to me than anything in the world."
Under federal sentencing guidelines, Joe Giudice faces a potential sentence of 37 to 46 months and Teresa Giudice could get 21 to 27 months, though the judge could deviate up or down from those ranges. Klingeman said after Tuesday's hearing that his client will seek probation.
Joe Giudice is an Italian citizen and could be deported upon completion of his prison term, said his attorney, Miles Feinstein. Giudice came to the U.S. as an infant and wasn't aware that he wasn't an American citizen, Feinstein said.
"It would be a grave injustice, and inhumane, for him to be deported," Feinstein said.
The Giudices have been the breakout stars of Bravo's New Jersey "Housewives" franchise, and over the past several years the show expanded to include Teresa Giudice's brother and sister-in-law as full-time cast members. One of her cousins is also a full-time cast member and her parents have appeared on the show several times.
The past seasons have focused on the tension and feuds between the Giudices and their extended family. In Season 5, Teresa Giudice was reluctant to speak about her legal troubles and –save for a few references—the show mostly avoided discussing the couple's possible jail time.
The Associated Press contributed to this report.