Tenor suspended from quartet after altering Canadian national anthem to sing 'All Lives Matter'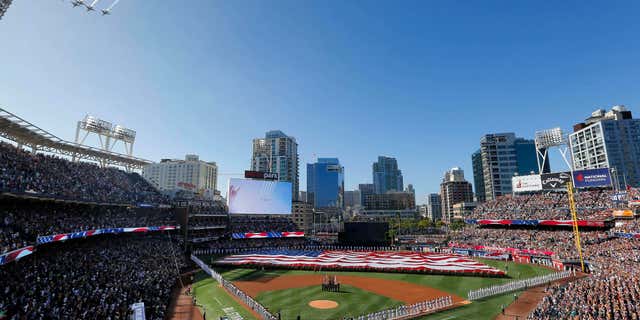 NEWYou can now listen to Fox News articles!
A member of a Canadian singing quartet was suspended from the group Wednesday, one day after he changed a lyric in his country's national anthem to belt out "All Lives Matter" and held up a sign with that message during a pregame performance at the 87th All-Star Game on Tuesday in California.

The Tenors called Remigio Pereira's act "selfish" and "disrespectful," saying the singer acted as a "lone wolf" during the performance at Petco Park in San Diego.

"The Tenors are deeply sorry for the disrespectful and misguided lack of judgment by one member of the group," the group said in a statement released on Twitter.
"The other members of the group are shocked and embarrassed by the actions of Remigio Pereira, who changed the lyrics of our treasured anthem and used this coveted platform to serve his own political views."
The band said Pereira won't perform with The Tenors "until further notice" and apologized to their "fellow Canadians, to Major League Baseball, to our friends, families, fans and to all those affected."
The change happened during the middle portion of the anthem, which is often sung in French at sporting events.
Pereira unexpectedly sang: "We're all brothers and sisters. All lives matter to the great."
The normal lyric is "With glowing hearts we see thee rise. The True North strong and free."
"United We Stand" was written on the back of his sign.
Major League Baseball also had no idea Pereira sought to make a political statement, spokesman Matt Bourne said.
Although the audio wasn't crystal-clear at the park, many fans reacted with surprise when they saw the sign on the ballpark video scoreboard. The Canadian anthem wasn't shown live on U.S. television, but it aired in Canada, where social media reacted with overwhelming criticism of the change.
The Tenors are Pereira, Clifton Murray, Fraser Walters and Victor Micallef. The Juno Award-winning group has recorded multiple platinum albums in Canada while performing around the world, including gigs at the 2010 Winter Olympics opening ceremonies, the 2012 Queen's Jubilee in England and the 2014 Stanley Cup Final.
"All Lives Matter" has become a common phrase in recent months, countering the "Black Lives Matter" movement, particularly after the police shootings of Alton Sterling and Philando Castile.
The Associated Press contributed to this report.