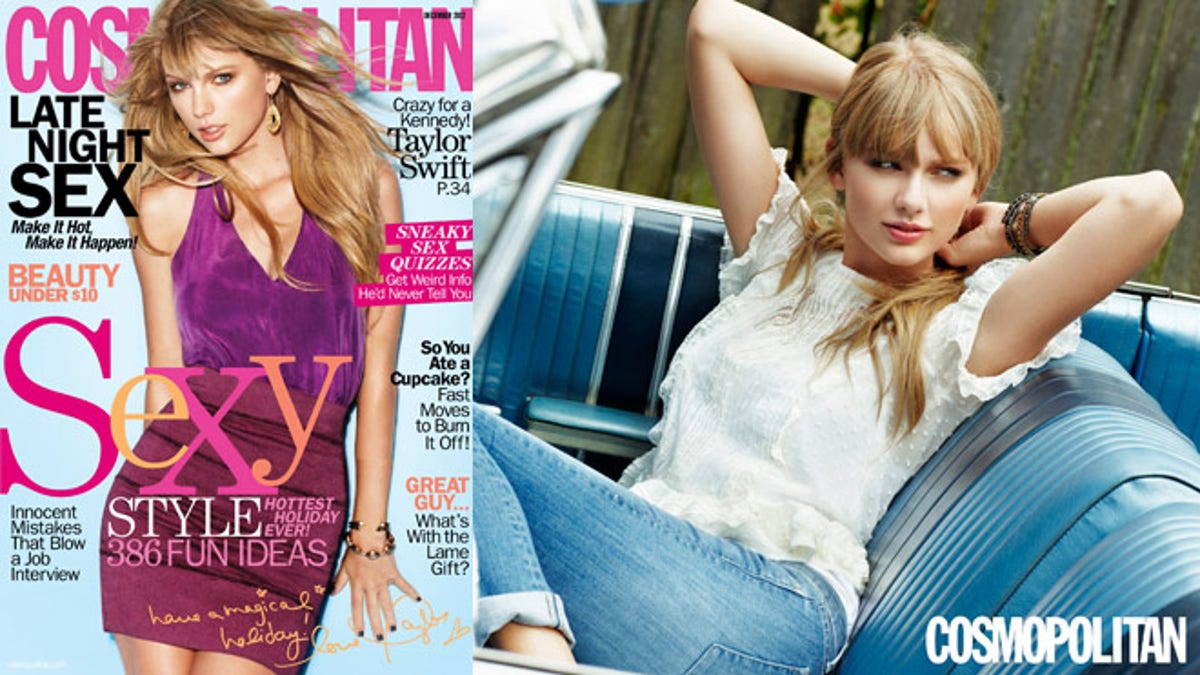 Taylor Swift's latest album "Red" was certified platinum Wednesday, selling 1.2 million albums in just one week, the most units any album has sold in seven days in over a decade.
One way Swift has managed this feat in an era of declining album sales is by exploring nontraditional promotional avenues, pairing standard appearances on morning shows like "Good Morning America" and "Katie" with new presences at places like Papa John's pizza and Walgreens drug stores, which offered the album for sale.
The squeaky clean country star is also breaking new ground by appearing on the December cover of the raunchy women's magazine Cosmopolitan alongside headlines "Late Night Sex!" and "Sneaky Sex Quizzes."
Swift is promoted on the cover as "Crazy for a Kennedy," a hazard of the monthly magazine production cycle, as Swift and boyfriend Conor Kennedy reportedly broke up weeks ago.
Of course ending relationships is nothing new for the 22-year-old singing sensation, who has had public break-ups with a long list of famous boyfriends, many of which she has immortalized in song.
In her Cosmopolitan interview, Swift tells what guys do to get on her bad side.
"I can't deal with someone wanting to take a relationship backward or needing space or cheating on you. It's a conscious thing: it's a common-sense thing…I just don't ever want to end up in a relationship that isn't fair ever again," she said.
And Swift says when it comes to a guy, "I need that unexplainable spark…I just need to see someone and feel Oh, no, uh-oh. It's only happened a few times in my life, but I feel like if I was gonna be with someone forever, it would be because I saw them and I thought, Oh, no."
She also acknowledges that for her, when its over, there is no looking back.
"I've learned when to get out. I've never wasted too much time with the wrong person and that's one thing I'm proud of."
Swift says she's become an expert on realizing when a good thing is going bad.
"I've had a lot of dark and twisty situations happen, enough to realize that when someone exhibits signs of evoking a dark and twisty relationship and dark and twisty feelings, it's not interesting to me," she tells Cosmopolitan.