Taylor Swift grants last wish of 4-year-old with cancer - to 'Shake It Off' together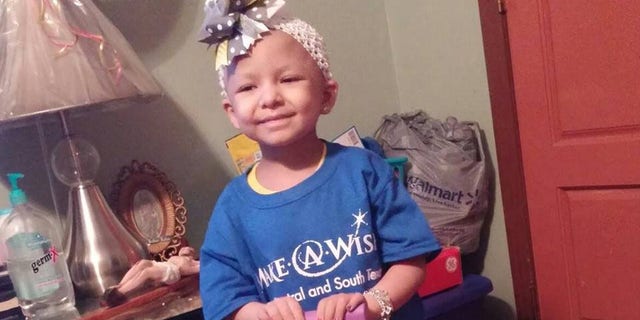 Jalene Salinas loves Taylor Swift.
All the 4-year-old Texas girl wanted was a chance to meet her idol and dance to her hit song "Shake It Off."
Meeting the pop singer was the only thing left on what the toddler's bucket list – as the family calls the list that they started about 10 months ago after she was diagnosed with brain cancer.
On Monday night, the little girl got her wish.
Jalene's mom Jennifer Arriagas told Eyewitness News that the pop singer chatted with the family for 20 minutes during a surprise call via Facetime.
"I'm so sorry you're having a bad night, I'm so happy to talk to you though, and I'm so happy you like 'Shake It Off'," Swift reportedly told Salinas. "You look beautiful tonight, you really do. You're just as pretty as your pictures."
The surprise call came just in time. Salina's health took a dip over the weekend.
"She woke up not being able to walk, and she's very unstable," Arriagas said. "But she's still responding, and she's still able to talk."
Arriagas chronicled her daughter's journey on Facebook, and told USA Today that Swift had previously sent a gift package with memorabilia and a signed poster.
But the family wanted a bit more.
"And you always say shake it off because you want to shake off what?" Arriagas asked her daughter in front of reporters.
"Cancer," Salinas responded.
The little tyke first went to the hospital in April 2014 after complaining of headaches, but doctors believed they were triggered by allergies and sent her home with Tylenol.
The headaches persisted.
They went to Methodist Children's Hospital in San Antonio, Texas, and doctors discovered that a tumor was the cause.
"Within 20 minutes of the scan, they realized she had swelling in her brain from fluid that was being blocked up from her tumor," Arriagas said.
Salinas was diagnosed with a PNET tumor, an aggressive form of cancer, and doctors were not able to prevent it from growing.
"There's nothing else they can do for her," said Arriagas, who added her daughter might only have weeks to live. "They told us anything that you want to do with her now or she wants to do, go ahead and do it."
The only item left unchecked from Jalene's bucket list was dancing with Swift.
Family and friends used the hashtag #ShakeItOffJalene on social media in the hopes of getting Swift's attention.
Monday night's touching moment with Swift was the culmination of those tweets and inspirational messages.
"You completed her wish list, we can check everything off and as her mom it just, it means the world to me that she got to do and see and everything is checked off now. It means so much to me that you reached out to us." Arriagas told Swift, according to Eyewitness News.
"Everyone in the car with me is crying right now," Swift responded.
Like us on Facebook
Follow us on Twitter & Instagram