Taylor Swift and Beyonce Are Grammy Nomination Queens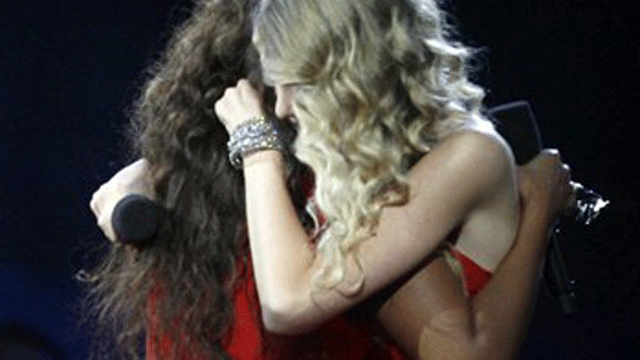 Taylor Swift has won just about every top music award there is this year, but the possibility of winning not just one, but eight Grammys, had the 19-year-old screaming for joy as the nominations were announced.
"I started freaking out and jumping up and down," Swift said in a telephone interview Wednesday night after learning of her nominations, which included album of the year for her sophomore CD "Fearless" and mentions for song and record of the year.
"I honestly never would have predicted this, eight nominations -- I'm ecstatic, and blown away and so so thankful," the stunned country sensation said.
SLIDESHOW: The lovely and talented Taylor Swift.
Swift's haul of eight nods was only second to another blonde superstar -- Beyonce, who got 10. The multi-hyphenate diva, who had an amazing year even on Beyonce terms, including performing at the inauguration for President Barack Obama and the first lady and a No. 1 movie with "Obsessed," was rewarded for her fierce year. The Grammy-winner was nominated once again, this time for album of the year for her double CD, "I Am ... Sasha Fierce," song of the year for her ubiquitous anthem, "Single Ladies (Put a Ring On It)" and song of the year for "Halo," as well as other awards.
Another diva was also nominated in all three categories: Lady Gaga. The eccentric entertainer, who had five nominations overall, garnered a best album mention for her debut CD, "The Fame," while her "Poker Face" got nominations for record and song of the year. Other nominees for album of the year were the Black Eyed Peas for "The E.N.D." and Dave Matthews Band's "Big Whiskey and the Groogrux King."
SLIDESHOW: The lovely and talented Beyonce.
The Black Eyed Peas were also nominated for record of the year for their feel-good song, "I Gotta Feeling," while the Kings of Leon were nominated for "Use Somebody." The Kings of Leon hit was also nominated for song of the year, as well as Maxwell's comeback hit, "Pretty Wings."
The Black Eyed Peas, Maxwell and Kanye West got six nominations each, while Jay-Z and DJ David Guetta got five.
The country act the Zac Brown Band was nominated for best new artist, along with R&B siren Keri Hilson, rockers MGMT, the punk duo the Ting Tings and the rock group the Silversun Pickups. The year's most popular new artist, Lady Gaga, wasn't eligible; her single "Just Dance" had been nominated last year, before she was a platinum-selling act; previous Grammy nominees can't be nominated in the category.
Recording Academy President Neil Portnow said that scenario won't likely happen again: "There will be some changes so that particular situation won't repeat itself."
Wednesday's nominations were unveiled at Club Nokia in Los Angeles as part of a prime-time CBS special. It was the second year in a row that the Recording Academy revealed a handful of its 109 nominees during a televised concert; in the past, they had been announced during a morning news conference.
Swift, who turns 20 later this month, said she was holed up in a Los Angeles hotel room with her mother, editing home videos on her computer, when the nominations were being read. It was then she got a text from her producer, Nathan Chapman, that just read "AAUUGGH!!!!!"
Taylor didn't know what to make of it.
Then he called and told her about her first nomination, song of the year, for her hit, "You Belong With Me." And then the screams started, and continued when the nominations kept coming in.
Besides album and song of the year, she was also nominated for record of the year for "You Belong With Me" and country album.
"To be recognized by the Grammys is the ultimate honor, and all I know is that when I write about this in my journal tonight it will be in all capital letters and underlined four times, and there will be lots of exclamation points in this entry because I never imagined I'd get to write this kind of journal entry," she gushed.
Swift may be in shock, but her nominations are not a big surprise to many: She was the year's best-selling artist outside of Michael Jackson, and her "Fearless" CD, released late last year, has sold more than 4.5 million copies. She is not just a country superstar, but a pop one as well.
Just last month, Swift won five American Music Awards, including artist of the year. She's also won top honors at the Academy of Country Music Awards, the Country Music Association Awards and won an MTV Video Music Award (which was infamously snatched away by Kanye West).
But Swift, who has been nominated for a Grammy before, says winning one would be her dream triumph: "The thought of that absolutely is something that you daydream about."
Swift was in Los Angeles to do a concert and to do some work on her upcoming movie "Valentine's Day"; she had an early call on the set Thursday morning.
When asked how she planned to celebrate her nominations, she said: "I'm just gonna call a bunch of people and tell them that I love them."
The Grammys will be presented on Jan. 31 in Los Angeles.