'Survivorman' Les Stroud: Taking son on trip created 'a whole other level of stress'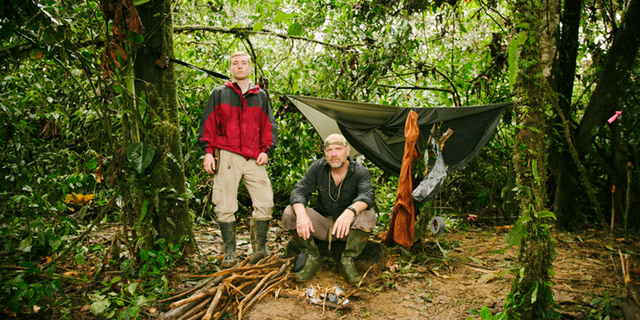 NEWYou can now listen to Fox News articles!
Science Channel's "Survivorman" Les Stroud is preparing for the Father's Day of a lifetime.
The 54-year-old Canadian survival expert took his 18-year-old son, Logan, on a jungle adventure for "Survivorman & Son," which airs this weekend.
At 16 years old, Logan was diagnosed with leukemia and spent six months in the hospital. Stroud told FOX411 filming an episode of his show with his son was a powerful experience.
"If I'm being very honest, it did take on a much deeper connotation for me," Stroud said. "For me it has been 15 years of 'Survivorman' and so to have Logan with me after what we had just been through, barely 18 months ago, it creates something so impactful, something more meaningful to me."
Stroud was happy to share his passions with his son, but at times, the experience was stressful.
"I'm out here doing what I'm really good at, but I have my son with me, which creates a whole other level of stress, and on top of it I am then rewarded with the fact that this is my son in full survival mode in all definitions of that phrase. And so it became a very meaningful experience to be out there with him."
Stroud has been appearing on the series for more than a decade. He told us many fans have expressed their appreciation for what his show has taught them.
"It happens so often and it is a strange combination for me of feeling completely humbled by that and at the same time feeling very proud about that," he said. "I was right in my choices of what I taught; I was right in my choices of how I produced the show."
He said the show resonates with men as well as children and women.
"One of the greatest compliments I would get is that 'Surivorman' is a show that the entire family would sit down to watch because the young boy scouts and girl scouts would be learning skills," he said. "The men would live vicariously by putting themselves in my position, and the women will watch with their eyebrows raised. It really resonated across the whole demographic of the whole family."
But Stroud said despite the popularity of the show, fans need to understand survival requires a certain skillset.
"People think they can just watch a TV show and go out in the woods…you can't," he explained. "You can't watch a TV show and expect to go out and survive in the wilderness alone."
And Stroud stressed that survival is just a harsh reality.
"Survival is not a recreation. Survival is a reality that you don't ever want to experience. It's not something to play. It is a skillset to learn from experienced teachers."
"Survivorman & Son" airs June 19 on Science Channel.