Strange bedfellows? John Cusack producing, starring in Rush Limbaugh movie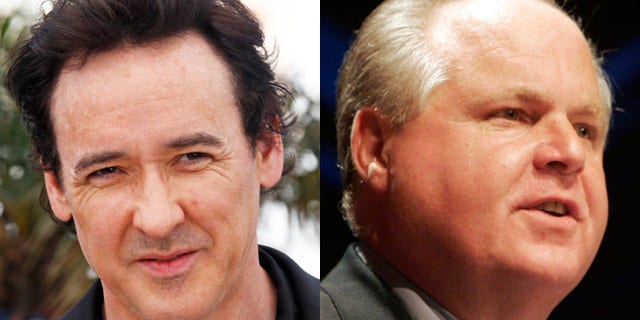 LOS ANGELES – Actor and outspoken liberal John Cusack is developing a movie about conservative radio host Rush Limbaugh, Cusack's production company said Friday.
The working title is "Rush," Cusack's New Crime Productions confirmed, offering no other details.
Hollywood director Betty Thomas, who's set to work on the film, said the production company is putting finishing touches on a script that will star the actor. Production is set for next year, Thomas said.
Limbaugh is in the front ranks of colorful and provocative media figures. Earlier this year, Limbaugh called a Georgetown law student a "slut" and a "prostitute" on air for arguing to Democrats in Congress that health plans should pay for contraception.
This week, the host mocked Republican New Jersey Gov. Chris Christie for his "bromance" with Obama after Christie praised the president's response to the aftermath of Hurricane Sandy.
Cusack as Limbaugh isn't typecasting, politics aside. Cusack is a slender, dark-haired 46-year-old, while Limbaugh is 61, balding and portly. But Hollywood's makeup experts have probably had greater challenges.
A publicist for Limbaugh said Friday he would check with the host for comment. The agency representing Cusack, Creative Artists Agency, declined comment on the project.
Cusack's credits range from the teen flick "Sixteen Candles" to offbeat films like "Being John Malkovich." He attended President Barack Obama's 2008 inauguration but has criticized Obama over his military and civil liberties policies.
Thomas is a former actress ("Hill Street Blues") and an Emmy-award winning director ("Dream On") whose big-screen films include Howard Stern's "Private Parts" and "The Brady Bunch Movie."
Thomas' latest project is an online series, "Audrey," that is showing on the YouTube channel WIGS.