Steve Harvey spills all the details about the 'Family Feud' Kardashian episode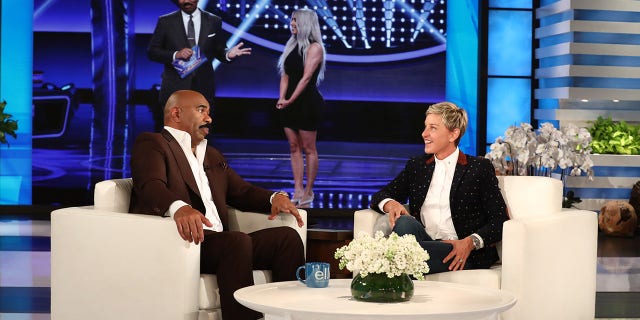 Get ready for the most epic episode of "Family Feud" ever.
Host Steve Harvey appears on Tuesday's episode "The Ellen DeGeneres Show" and opens up about the Kardashian-Jenner family taking on the Wests in the upcoming episode of the game show.
Apparently it was supposed to be the Kardashians versus the Hilton family at first, but plans changed.
Kim Kardashian and Kanye West Face Off Against the Kardashian-Jenners on 'Family Feud'

"They were supposed to play against the Paris Hilton family, the Hiltons against the Kardashians. The Hiltons cancelled so Kanye, who's a big fan of 'Family Feud' said, 'I want to play,'" Harvey explains. "So, he brought his family -- people you don't know, these cousins. They were just the best because they were just, like, hood."
So Kim Kardashian West, Kanye West, and three of his family members team up against Kris Jenner, Khloe Kardashian, Kendall Jenner, and a few extras.
"The dude on the end, he was the extra. He was a lot," Harvey says of Kim's friend, Jonathan Cheban.
As for Kanye, he was surprisingly the most enthusiastic of the group.
Khloe Kardashian and Tristan Thompson Chose Daughter's Name Before Cheating Scandal, Source Says
"Kanye was the best 'Family Feud' celebrity panelist we've ever had on the show. He loves the show," Harvey notes. "His people said, 'Steve , this is the most Kanye has ever smiled since we've been working for him.' Kanye smiled! When I introduced him, he smiled. Tune in and you'll see Kanye smiling."
Despite Kanye's excitement, Harvey declares, "Kim didn't know nothing."
This proved problematic when she faced off against her family. "They fire across at each other. Khloe's very competitive with Kim, and they were on opposite sides," he says, teasing the episode.
Kris Jenner Explains the Meaning Behind Khloe Kardashian Naming Her Daughter True
The families filmed their episode in February, but it won't air until next month.