Steve Harvey reflects on Billy Bush's 'Access Hollywood' tape: 'Why Donald Trump is in the White House is beyond me'
If there's one person who hasn't forgotten the infamous "Access Hollywood" tape that leaked during the 2016 presidential election, it's Steve Harvey.
The 61-year-old told Hollywood Reporter Friday he still didn't understand why former host Billy Bush was given the boot after president Trump was the one who bragged about grabbing women.
"It's funny, though. In the political climate, if you get an accusation, you get a congressional hearing. In this business, you out. Donald Trump is the president. Billy Bush outta work. I heard the tape. Why Billy is outta work is beyond me. But why Donald Trump is in the White House is beyond me, too."
In October 2016, just hours after the tape was released, Trump admitted it was his voice and apologized for making the crude remarks involving women.
"I said it, I was wrong, and I apologize," the 71-year-old said in response to the tape.
Harvey said today's audiences have made him think twice about returning to stand-up. He explained how comedy has gotten more difficult to do because today's audiences get easily more offended, causing sponsors providing funds for shows to quickly cut ties.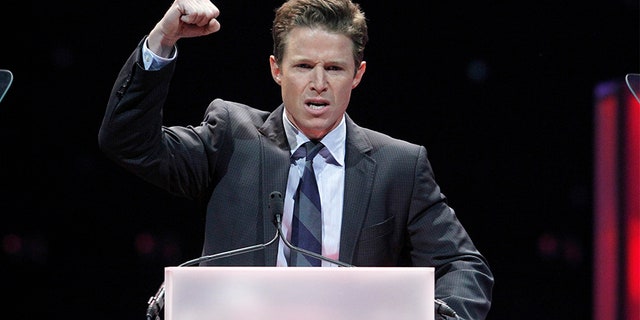 "That's the one hesitancy I have with going back to stand-up," said the comedian. "I'm a sponsor-driven business, and they keep moving the line of political correctness. It keeps getting closer and closer to where you can't open your mouth negatively. Throw away freedom of speech. That's out the window now."
Harvey made it clear he has an issue with the inequality comedians face in expressing themselves on stage.
"The Ku Klux Klan and the skinheads can get a permit to walk down the street to bash Jews, gays, blacks, immigrants, anybody," explained Harvey. "But if I tell a joke, Procter & Gamble pulls. Once Procter & Gamble pulls, Mercedes gotta pull. Then Kool-Aid. That's an ugly place to be in. But you can get a permit and put a hood on your head to walk down the street. Really? Regardless as to what our president said, there's not good people on both sides."
And while Harvey praised the recent #MeToo and Time's Up movements for helping women come forward to share their experiences of being harassed in the workplace, including within the entertainment world, he wondered how "fake stories" would outshine those telling the truth.
"It's something that needed some light to be shined on it because so many people, so many people were suffering without being able to say it," he said. "The sad part is there are people who are jumping on the bandwagon with fake stories. It messes us up for the women who really have issues."
However, Harvey told THR he isn't worried about the idea of returning to stand-up. He's currently the host of a TV series titled "Steve."
"I'm either telling jokes or playing music," he said. "And I get a check for that. When I got this new talk show, they said, 'Steve, I don't think you understand how much hard work it is to produce a daily talk show.'
"Excuse me? I worked at Ford Motor Co., putting eight spark plugs in 1,400 engines a day. That's hard work. Now I talk, and I wear suits. People put makeup on me, polish my shoes, trim my mustache, shave me. Someone f---ing puts my belt in my belt loops! A dude ties my shoes. That s---'s crazy. This isn't real life."