Stars Who Didn't Have Babies in 2011, Despite Tabloid Headlines to the Contrary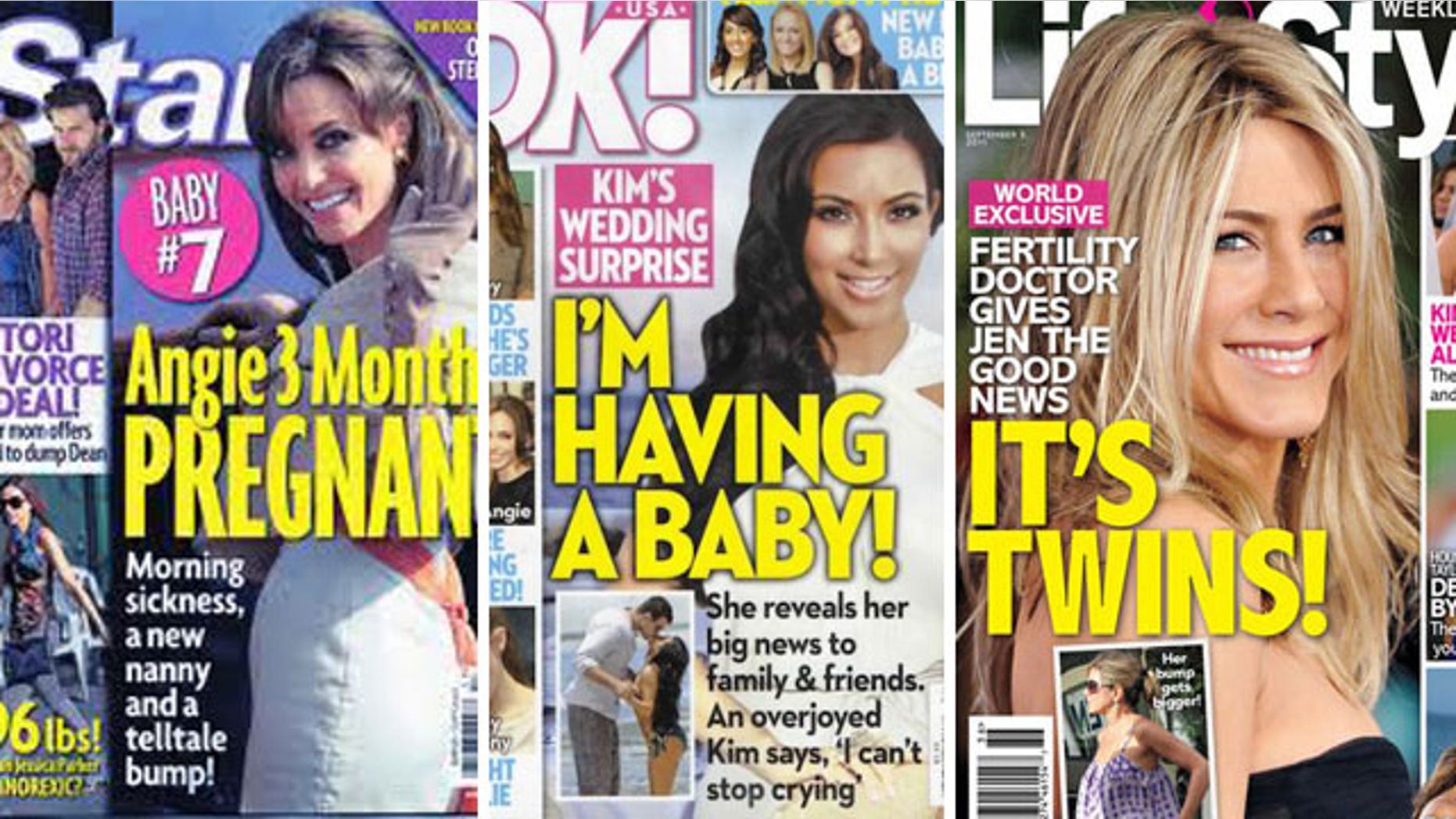 Everyone in Hollywood got pregnant in 2011.
If you believed this year's tabloid headlines., that is
As far as we can tell Kim Kardashian, Jennifer Aniston, Angelina Jolie and Kate Middleton have not procreated, adopted or otherwise obtained a child within the past 12 months, even though several tabloids said they had.
Why? Pregnancies sell magazines. Real or not.
"As long as people keep buying them they will keep happening. What is shocking to myself is that after a cover is clearly untrue why people keep buying that source," says former OK! magazine editor and HuffPost Celebrity columnist Rob Shuter.  "There is very little brand loyalty in that market with the exception of People, so quite often they don't remember which magazine said what."
And the easiest thing about a pregnancy rumor is that if you wait long enough it might just come true. Look at the success stories: After two years of speculation, Jennifer Garner finally got pregnant this year, as did Jessica Simpson and Beyonce. In tabloid land it is always better to report it wrong than report it last.
"The thing that I always joke about with these pregnancy stories is that eventually it will almost always be right. It just may be 20 months later," says the founder and editor of tabloid policing site GossipCop.com, Michael Lewittes.
So who were the most oft pregnant, not pregnant stars of 2011?
Jennifer Aniston
In October Star magazine told us that Jennifer Aniston was secretly married to beau Justin Theroux and that the pair wed in a secret ceremony because the actress was—pregnant! This came just a couple of weeks after Aniston herself told the Hollywood Foreign Press, " No, we're not pregnant. It's just I quit smoking, so I've gained a couple of pounds."
From October until December Aniston, who is partial to tight dresses, showed no sign of a baby bump, but Star refused to give up the vicarious pregnancy narrative and as recently as December 14th the mag told us that Aniston was definitely pregnant — with twins!
While this one may be too soon to suss out as false, their track record with Jen's womb proves deficient thus far.
Kate Middleton
In September, Star reported that newlywed Kate Middleton was pregnant — also with twins! Even at that early stage in Kate's pregnancy Star was able to report that one baby was a boy and one was a girl.
"The other thing that happens which magazines love to do is create the troubled pregnancy," Lewittes said. "No one saw it, no one reported it. I think there was even an ambulance involved."
Soon after, Star declared that the pregnant Kate Middleton had collapsed and was found unconscious by Prince William. Judging by Kate's belly hugging holiday dresses she also isn't expecting any time soon.
Angelina Jolie
In November Life &Style magazine announced that Brad Pitt and Angelina Jolie were actively preparing to adopt. They are "primarily looking in Ethiopia, where their daughter Zahara was born," sources told the mag.
This came soon after Jolie herself announced she was neither pregnant nor looking to adopt in the near future.
The narrative continues. According to OK! magazine this week Angie and Brad have "Shocking Baby News." It's back on! Apparently the pair are planning to have/get another baby in 2012.
Kim Kardashian
In what might be the most implausible baby news of the year, just weeks after she announced  her divorce from Kris Humphries Star magazine announced that Kim Kardashian was pregnant with Kris' baby. That seemed tricky. The magazine cited "sources from her inner circle" as "buzzing that she could already be pregnant!"
But that Kardashian cover wasn't entirely without precedent. In September Life & Style declared that Kim was having a "Honeymoon Baby!"
It seems now no babies were made during the brief union. That doesn't mean Kim won't be pregnant again in 2012.
With twins!