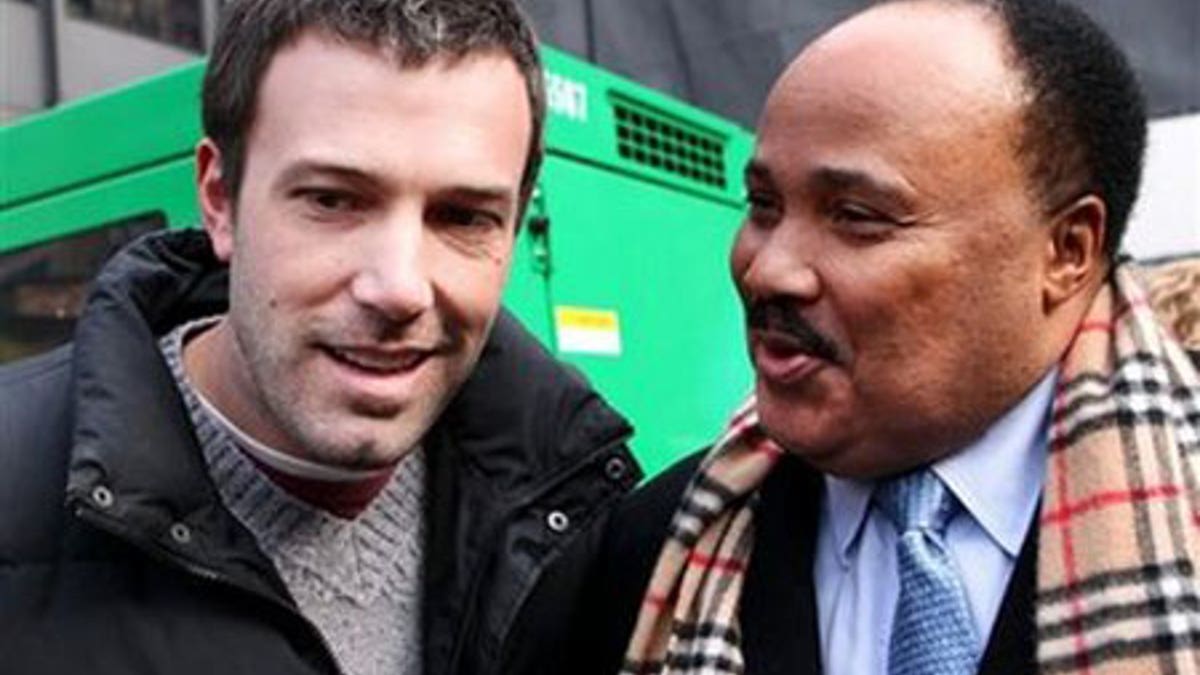 WASHINGTON – Usher helped build a school library. Superman and Spider-Man rolled up their sleeves. And thousands of volunteers around the country marked the Martin Luther King Jr. holiday on Monday by heeding President-elect Barack Obama's call to service.
They picked up trash in Los Angeles, donated blood in Miami and fed the hungry in Olympia, Wash., in response to Obama's call for a "day on" Monday for Martin Luther King Day.
"We responded to President Obama's call today because he responded to our call," said David Blair, a 48-year-old volunteer in Miami.
And the stars who poured into Washington to see Obama's inauguration pitched in, too. Usher helped build shelves at a school library in southeast Washington with Brandon Routh, the star of "Superman Returns," Tobey Maguire of "Spider-Man" fame and dozens of other volunteers. Oprah Winfrey's TV crew and MTV were on hand to capture the moment.
"Change has come to America, but we are the reality of that change by simply becoming part of service projects, volunteerism," the 29-year-old singer said. "That is change in motion."
The effort to spruce up the school and similar projects in cities across the country are part of a long tradition of community service on King holidays. Volunteers, though, are signing up with new urgency this year, organizers said.
Martin Luther King III, the oldest son of the civil rights leader, predicted that millions of people would take part in service events Monday.
"You don't have to have a Ph.D. to serve," he said. "We know that a lot of us doing just a little can make a major contribution. ... The goal is to keep that going throughout the year."
Obama and Vice President-elect Joe Biden did their part. Obama visited an emergency homeless shelter for teens and helped with some painting, while Biden spent part of his day hanging dry wall at a Habitat for Humanity home in northeast Washington.
The Presidential Inaugural Committee set up a Web site, USAService.org, to match volunteers to projects had more than 11,000 service projects posted to the site.
The committee is not otherwise tracking the day's volunteerism, but organizers of the 14th annual Greater Philadelphia MLK Day of Service said they expected a record 65,000 volunteers to participate in 900 projects throughout the city, southern New Jersey and Delaware.
Dozens of volunteers showed up to help at the Ronald McDonald House and Casa Esperanza in Albuquerque, N.M. to wash windows, sweep, paint and clean — volunteer tasks the two charities depend on so they can focus on helping thousands of New Mexicans from around the state.
"More people need to be aware that this isn't just six people building a fence, but instead a community coming together to say all right we're getting involved, we're going to make a difference," said volunteer Steve Groves.
In Olympia, Stewart Henderson, an organizer of Thurston County Citizens for Change, said as many as 100 people were fanning out to 18 grocery stores to solicit food donations to the local food bank. He predicted the amount would be "in the tons."
A convenience store near Miami became a hub of activity with volunteers running a blood donation van and a job bank bus, and providing other health services.
Organizer Nadine McMilon said she wants to turn Monday's event into a monthly, one-stop gathering for anyone needing help.
"In this area, a lot of people need jobs, a lot of people are homeless," she said. "People are going to see us coming together."
In the hip Silverlake neighborhood of Los Angeles dozens of residents fanned out along Sunset Boulevard, picking its well-littered gutters and sidewalks clean of trash.
"We've never done this before," said Helen Nasillski, a ballet instructor who was out collecting trash with her husband and two children. "There's a different feeling in the air these couple of days."
Back in Washington, Ben Affleck, Herbie Hancock and other celebrities rallied with the hunger-relief group Feeding America at the Martin Luther King Memorial Library, asking people to skip lunch and instead donate to a food bank.
Hancock performed on stage as homeless people gathered for a lunch in front of the library.
Earlier in the day, Demi Moore and Ashton Kutcher unveiled a Web video called the "Presidential Pledge," which they produced with dozens of actors and artists to tell Obama he's "not alone" in pledging an oath Tuesday to work to make the country better.
On Monday afternoon, volunteers gathered at RFK Stadium to create more than 85,000 care packages to send to troops serving abroad.
At Simon Elementary School, where Usher and other celebrities worked, the refurbishing will include 2,000 new books provided by Target and seven new Apple computers.
Librarian Regina Mack said she can't wait to see the students' reaction when they returned to class Wednesday.
"They're going to say, 'Wow! Somebody cares about us,"' Mack said. "That's going to give them a different outlook."