'Star Wars'' Mark Hamill recalls 'making out like teenagers' with Carrie Fisher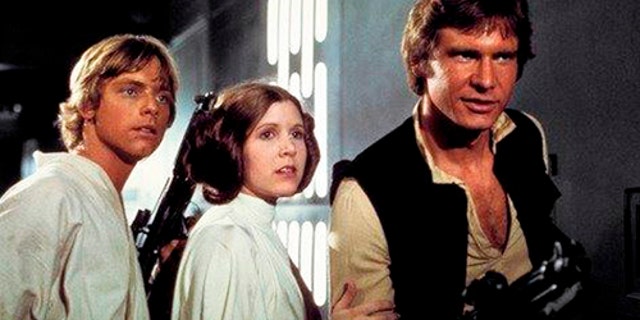 As Princess Leia and Luke Skywalker returned to the big screen in "Star Wars: The Last Jedi," Mark Hamill refelcted on his days working with his former co-star and on screen love, Carrie Fisher.
"Carrie and I were attracted to one another, but I knew from previous jobs that it would have been a bad idea," Hamill told the Guardian in a new interview. "But Carrie and I found pretexts. I remember one time – I'm sure alcohol was involved – we were talking about kissing techniques. I said: 'Well, I think I'm a fairly good kisser. I like to let the women come to me rather than be aggressive.' And she said: 'What do you mean?' Well, next thing you know we're making out like teenagers."
And just as fans had imagined, Hamill admitted that he and Fisher really did get together on the "Star Wars" set.
"We were all over each other!" he said. "But the one thing that drew Carrie and me back from the precipice was we kind of became aware of what we were doing and just burst out laughing. Which was unfortunate for me because the rocket launch sequence had been initiated."
But after exploring their physical attraction, the two grew to be extremely fond of each other. Their days on set sparked a life-long friendship.
"I wasn't her best friend — she had so many friends and I'd go to parties with her and I would be the only one there I'd never heard of. But there was a comfort level that we'd achieved because she knew I wasn't ever angling for a favor or trying to get her to introduce me to this agent or this director. We became like real siblings over the years," he explained.
Fisher died suddenly, right before her famous mother, Debbie Reynolds, on a flight from London, two days after Christmas. Fisher's death impacted "Star Wars" fans across the world, but her unforeseen death was incredibly hard for friends and family close to the iconic actress, especially Hamill.
"It's devastating and I still haven't come to terms with it," he said. "Gosh darn it, I still think of her in the present tense, you know? If she were here right now, she'd be behind you giving you bunny ears and me the middle finger because she was all about having fun all the time. Whenever I was on set, I would go straight to her trailer with my dog and hang out with her and her dog."
"Star Wars: The Last Jedi" opened in theaters Friday.