Soldiers in US Army become basis for new digital comic series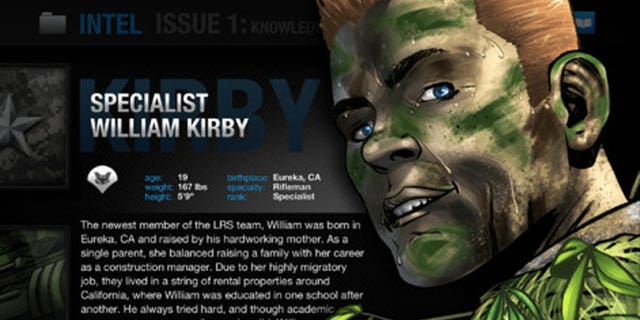 It's official. The U.S. Army has digital heroes to rival the likes of Batman and Spiderman, having launched "America's Army Comics" last week. The series is available as a free iPad and Android tablet app that will allow readers to view issues in a digital format.
"We decided to do a mobile app format because it allows us to do a lot of really innovative things that we hadn't seen comic books do before," executive producer Mike Barnett told FOX411's Pop Tarts column ahead of the Comic Con convention.
"We work with soldiers on a daily basis, and in between meetings, they would be telling us these fantastic stories about things that happened to them while they were deployed or when they arrived home. A comic book was the perfect media to capture these stories – how they deal with people from different cultures, acts that changed the mentality of entire villages that didn't trust Americans, all this stuff was very interesting."
[pullquote]
Brought to life by the same masterminds that produce America's Army PC games, this new comic series offers an authentic Army experience with animated panels and sound effects, with every single storyline, weapon, mission and training tactic verified by U.S. Army soldiers to ensure accuracy.
America's Army PC game director Marsha Berry stressed that the creators didn't just want to highlight the in-combat action of our troops, but also highlight how they live and survive, as well as their very personal stories.
"We wanted to follow them from training through their army careers. This book allows us to detail what a soldier's lifestyle is," she said.
And so far, it seems American audiences can't get enough of the action.
"(The response) has been very positive from both soldiers and civilians alike. It's a book that bridges all people with all age groups," Barnett added. "The stories are inspirational and show the best of what we are trying to do within the world from the eyes of a soldier."
The America's Army app can be downloaded from iTunes and from Google Play
Danielle Jones-Wesley contributed to this report