Singer Daddy Yankee Denies Published Reports That He's Gay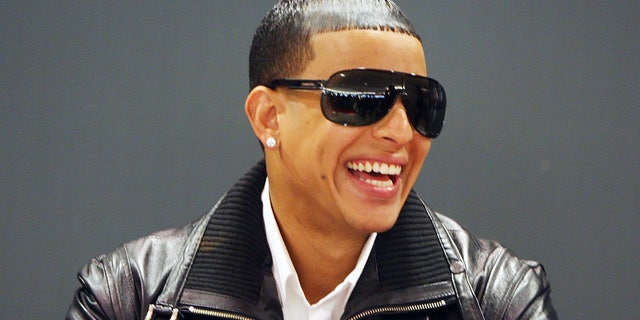 Puerto Rican reggaetón superstar Daddy Yankee is gay. Well, no. Maybe.
Leading news organizations in the island published a photo identifying him as kissing another man, which expectedly caused a firestorm online.
Daddy Yankee denied it's him in the picture.
Multiple Puerto Rican outlets have also reported that the "Gasolina" rapper has already publicly announced he's gay — though they claim he now seems to be taking it back.
According to El Nuevo Día, El Nacional and TV Notas, Daddy Yankee, whose real name is Ramón Luis Ayala Rodríguez, announced that he was gay last month at a nightclub in his native Puerto Rico, the Spanish-speaking island that's a U.S. territory.
"Some compromising photos of me were released, which show a side of me that I did not feel ready to speak about due to fears of being looked down upon, fears of the critics and fears especially of what my family would think and the consequences of that," the singer allegedly said in a statement in Spanish, according to published reports.
"I don't want to lie about it anymore especially because of fears," he supposedly said.
Whether he actually said it or not, the "Rompe" singer quickly took to social media to deny the allegations, claiming they're part of an orchestrated and vicious attack against him.
"For all of you ignorant folks: the Internet is where lies become truth and the truth becomes a legend. Wake up dummy," he said on his Twitter account.
The singer's publicist, Helga García, also denied the singer is gay.
"The information that is going around is completely false, I have no idea where this could have come from," García said.
The rumors allegedly began when Daddy Yankee, 36, publicly expressed his approval for gay marriage at a press conference earlier this year.
"I respect them and have even given them jobs in the past," Daddy Yankee said in a video on You Tube. "But, I do believe these decisions are bigger than Daddy Yankee. I believe the government and the church need to take these important matters and handle them."
Back in 2010, allegations swirled online that Daddy Yankee had an intimate relationship with a transsexual man, according to the Mexican daily Excelsior. He denied the relationship.
Follow us on twitter.com/foxnewslatino
Like us at facebook.com/foxnewslatino