Shirley MacLaine talks Trump, Oscars mix up at Lumiere Award ceremony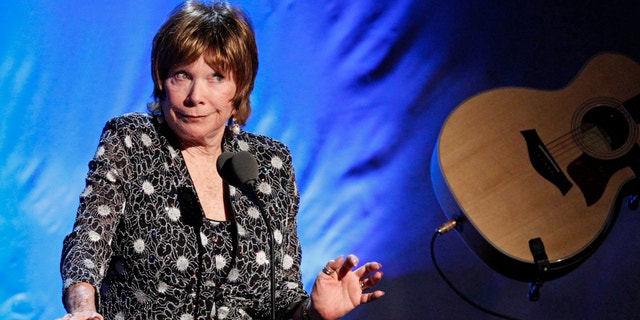 LOS ANGELES – Shirley MacLaine didn't hold back about her thoughts on politics and the current administration.
The 83-year-old actress spoke to Fox News at the ArcLight Cinemas Sherman Oaks where KCET presented her with the Lumiere Award for her decades-long career in Hollywood.
She referred to President Donald Trump as a "showbiz barker" and recommended "new hair, new makeup" and a "new script" — from a "showbiz perspective."
"The administration challenges our own individual democracy. It will force our maturity," MacLaine told Fox News.
She later added, "I won't talk about the president, just my feelings about him."
MacLaine also chatted about the recent shocking end to the Oscars. MacLaine's younger brother, Warren Beatty, was at the center of the controversy on Sunday when he, along with Faye Dunaway, presented the wrong best picture winner.
The actress said she thought host Jimmy Kimmel did "a great job" on Sunday. She said he looked comfortable in front of the big crowd of famous people.
Of the shocking best picture mix up, MacLaine told USA Today on Monday, "I think we're all processing the horror of it. I'm still dealing with it."
FOLLOW US ON FACEBOOK FOR MORE ENTERTAINMENT NEWS
She joked on Tuesday if she's ever nominated for an Oscar she "hopes they have the right card."
Following MacLaine's Lumiere Award ceremony, guests were invited to a screening her latest film, "The Last Word," co-starring Amanda Seyfried.
The film's theme was similar to many in MacLaine's long career. It is about feminism and the complex relationships between mother and daughter.
MacLaine said she chose to do the film because it resonated with her. The character, Harriet Lauler, is thought to be a control freak. MacLaine says she isn't. She simply has a drive to keep doing something she loves and doing it well.
The film, directed by Mark Pellington, premiered at the 2017 Sundance Film Festival.
The screenwriter, Stuart Ross Fink, told MacLaine in front of the crowd that he wrote the part with her in mind.
"It's an honor. It's a testament," MacLaine said. "It has happened in six films."
MacLaine laments that there aren't more films about older people. If her film is a success, she mused, maybe audiences will see more of these kinds of films being made.
"Hollywood under serves films that satisfy an area that no one seems to be paying attention to," she said.
As Seyfried told the gathered audience how much MacLaine was her inspiration and teacher on the film, MacLaine in her signature no-holds-barred style said her inspiration was Mahatma Gandhi.
"Of course he was always on opium, and I'm not a druggie," she said. "But I'm drawn to people with a sense of otherness."