Selena Gomez says she doesn't 'give a f--k' about not having had a normal childhood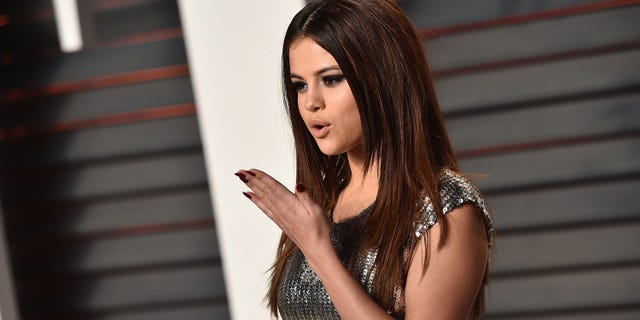 Selena Gomez has been in the spotlight since she was about 10 years old, so a "normal" childhood was out of the question – and she doesn't regret it and frankly doesn't care.
In a candid interview with GQ magazine, the 23-year-old opened up about growing up as a child star and her frustration regarding the rumors as to why she went to rehab.
"I chose this. So I'm not gonna sit here and say, 'Oh, my God, poor me. I didn't have a normal childhood.' I don't give a f--k about that," Gomez told the magazine.
That said, Gomez believes that child stars are easy targets and finds it "disgusting" that grown adults want to know what they do.
"We're easy targets," she said. "Every single kid who was brought up like this is an easy target. It's disgusting, because it's interesting to grown adults that these kids go through weird things because they're figuring out, 'Do I like this? Do I love this? Maybe I love this person. Oh, I'm exposed to this, people are reporting my every move and this and that because of Instagram and Twitter, and you can find out everything.'"
She added, "There's a difference between being a fan — there's a difference between that, and what you have to do. Because it's, I don't know, fun, maybe? It's like watching a car crash as you're driving past it. You want to watch it."
As for her short stint in a rehab facility in January 2014, Gomez said she was going through a hard time – having dropped her mother as her manager, getting diagnosed with Lupus – but she really don't want to talk about it anymore.
"First off, this is something that everyone always wants to fixate on. I got diagnosed with lupus. My mom had a very public miscarriage. So I had to cancel my tour. I needed time to just be okay, and I was going through (chemotherapy)," she told GQ.
"My past seems to be way more fascinating for people than my future, which bums me out," Gomez added.
Now with her lupus under control, Gomez wants to focus on moving forward, even if it's an uphill battle.
"I just have to be patient. It's slowly dissolving the older I get. And I just have to be patient and make great things with quality, from producing to singing to acting," she said. "And one by one, I will be able to change the dialogue, and people won't care about everything that's happened to me."