Sean Penn's 'El Chapo' interview a hot topic in Hollywood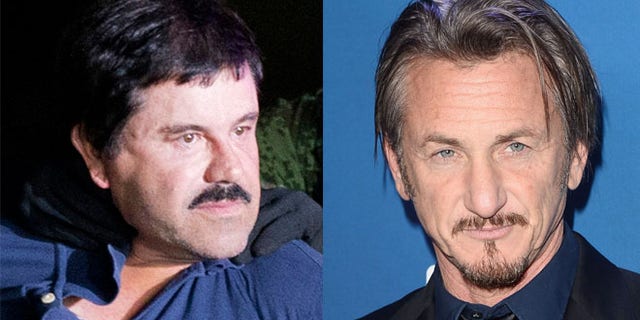 Sean Penn's clandestine interview with Mexican drug kingpin Joaquin "El Chapo" Guzman is a hot topic in Hollywood. So much so, in fact, that host Ricky Gervais didn't waste any time taking a poke at the actor at the Golden Globes.
"I want to do this monologue and then go into hiding," Gervais said barely 10 seconds into Sunday night's telecast. "Not even Sean Penn will find me."
Penn, who did not attend the awards show, interviewed Guzman last month for Rolling Stone magazine with the help of Mexican actress Kate del Castillo. His essay was published late Saturday, a day after the drug lord's recapture in Mexico.
"The Revenant" director and Golden Globe winner Alejandro Gonzalez Iñarritu, who is friendly with Penn and, as a Mexican, would have a strong grasp of Guzman's story, said he has not had a chance to read the Rolling Stone expose.
"I woke up today to the news. I haven't read the interview. I want to read the interview. It was very long," he told reporters backstage, according to Variety.
Meanwhile, Gael Garcia Bernal, who took home his first Golden Globe on Sunday night, told reporters he wasn't ready to comment on the news.
"It's so recent, and me as a Mexican, it's hard to talk about this subject because it's a subject that's very important to me and there are dead people involved. I haven't read it," he said.
Matt Damon, a Globe winner for actor in a comedy or musical, defended Penn's adventure, saying it was nothing new for the actor-turned-activist.
"I know a lot of very serious actors and filmmakers who have been having meetings like this forever, and writers for that matter," he said, declining to name names. "It's part of what we do to do our job really well."
"Show Me a Hero" winner Oscar Isaac, who was born in Guatemala, said Penn's meeting with Guzman was "pretty cool."
"It's a fascinating thing that he got to do that and got to get some incredible details about the story of this man. Doesn't sound like a very nice guy, but it's a fascinating story about a human experience," he said, according to Variety.
Mexican authorities said Penn's contacts with Guzman helped them track the fugitive down — even if he slipped away from an initial raid on the hideout where the actor apparently met him in October.
In the article, Penn wrote of elaborate security precautions surrounding his visit.
Actor and fellow Santa Monica High School alum Rob Lowe joked about Penn's secret trip on the red carpet before the Globes.
"Santa Monica High alumni get things done. We get nominated for Golden Globes, we help apprehend international drug fugitives, because that's what we're taught at Santa Monica High," Lowe said.
Brazilian actor Wagner Moura wasn't so sure it was a good idea for Penn to venture to the jungles of Mexico to meet with Guzman.
"Isn't that crazy?" asked Moura, who portrays drug lord Pablo Escobar on the television series "Narcos."
"I really admire him," he said of Penn, "but I wouldn't do it. I wouldn't like to meet a criminal."
The Associated Press contributed to this report.