Scott Brown Slams Kathy Griffin for Calling Daughters 'Prostitutes'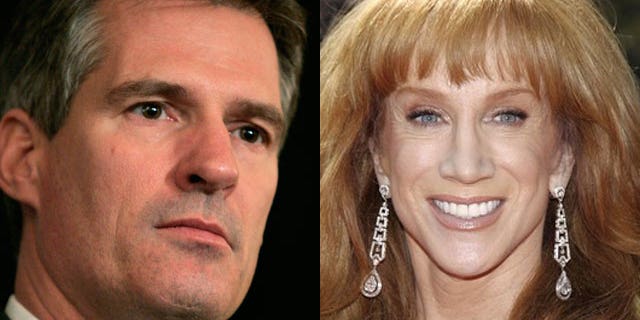 NEWYou can now listen to Fox News articles!
Massachusetts Senator Scott Brown slammed comedian Kathy Griffin for making a crude joke about his two daughters.
Griffin, star of "My Life on the D List" made the comments on the Bravo network Tuesday night. The segment features Griffin being shown a photograph of Brown by two CNN reporters, John King and Dana Bash. Griffin identifies Brown in the picture, saying, "Scott Brown, who is a senator from Massachusetts and has two daughters that are prostitutes." Bash erupts in laughter at Griffin's comment.
But Brown wasn't laughing, blasting Griffin and Bravo for the segment.
"People can call me any name they want, but families are off limits," he said in the statement made through spokeswoman Gail Gitcho. "I love my daughters Ayla and Arianna very much, and any parent would be proud to have them as children. Kathy Griffin and Bravo ought to be ashamed of themselves."
At the end of the clip, Griffin runs a disclaimer "from Bravo's legal team," saying the girls are not, in fact, "prostitutes."
Ayla Brown is a former NCAA basketball player and recording artist. She is now a contributor for CBS' "The Early Show." Arianna Brown is currently a pre-med student at Syracuse University.
Griffin also insults former vice presidential candidate Sarah Palin in the segment, saying "Remember when the Republican's tried to get that nutbag Sarah Palin to sound credible before the vice presidential debates? They had a board and ran flash cards to teach her the tough stuff, like there is both a North and South Korea. Well, that's sort of like what John and Dana did for me."