'Saving Mr. Banks' review: Emma Thompson, Tom Hanks perfect in year's best film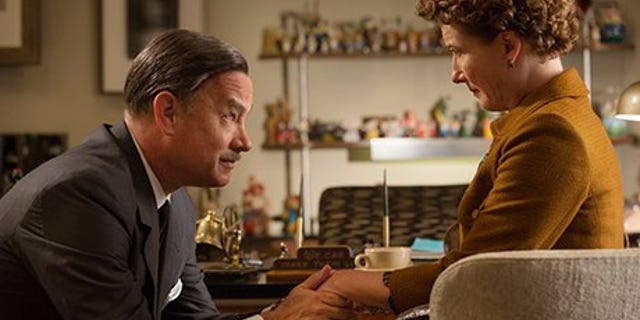 NEWYou can now listen to Fox News articles!
"Saving Mr. Banks" is just about as perfect as they come.
A spoonful of sugar, a dazzling ensemble led by Emma Thompson's brilliant performance, a story that captures the joy and heartache of creation, memory and preservation boosted by gorgeous cinematography, the nostalgia of the wonderful Sherman brothers' classic songs, combined with Thomas Newman's bittersweet original score, makes this a sweetheart of a picture.
It's this year's best film.
Through parallel storylines, "Saving Mr. Banks" unveils the tumultuous endeavor between "Mary Poppins" creator P.L. Travers and Walt Disney to bring her classic stories to the big screen. Though drenched in gorgeous warm colors, "Banks" isn't a self-deifying Disney fluff piece, but both a charming and poignant look at the struggles of collaboration and an innate lifelong desire to preserve the past.
Emma Thompson is a revelation as the stubborn, blustery Mary Poppins author Pamela Travers. For 20 years, she dodged Walt Disney's offers to adapt her books into film. From the sparkling cartoon musicals to his crowded theme park, Travers was staunchly against everything Disney represented. To her, Mary Poppins was family and she was not about to share, that is until she was out of money. Thus begins a working relationship between Travers and Disney, fraught with stubbornness, striking differences of opinion and of course, a little of that classic Disney magic.
"Banks" jumps back and forth from Pamela's tragic childhood in Australia to the often hilarious collaboration among Travers, Disney, composers Richard and Robert Sherman (Jason Schwartzman and B.J. Novak) and writer Don DaGradi (Bradley Witford). Richard Sherman was an advisor on this film, sharing his first-hand experiences with P.L. Travers as a basis for portions of the script. The tension between Travers and the Disney team is comically delightful, and watching Thompson break down Pamela's self-imposed wall as she warms to the Shermans' songs and Disney's charm is witnessing a true actor at her best.
While Pamela's present day storyline is drenched in color and humor, her past is tragic and sad. Colin Farrell gives one the best performances of his career Pamela's father Travers Goff. In Pamela's eyes, Goff was a hero, the greatest man on Earth. But in reality, he was an alcoholic who couldn't hold a job or provide for his family. The more devastated Goff was, the more enamored Pamela became and as his story unfolds in the past we see how it influences the creation of "Mary Poppins" in the present. Farrell is enchanting as the broken but loveable inspiration for the father in "Mary Poppins," Mr. Banks.
While "Banks" is definitely Thompson's film, Tom Hanks is also great as Walt Disney. He humanizes the icon as he becomes increasingly frustrated with Travers' balking. When his charm isn't quite doing the trick, Hanks drops the superficial salesman act and shows a man with a touch of sadness and an enormous heart. Between Disney and Captain Phillips, Hanks proves he is still at the top of his game.
Also rounding out the incredible cast are Paul Giamatti as Travers' affable driver, Ruth Wilson as Pamela's distraught mother and Rachel Griffiths as her aunt, the inspiration for the magical nanny.
Director John Lee Hancock and screenwriters Kelly Marcel and Sue Smith never allow "Saving Mr. Banks" to fall into syrupy melodrama, which this film could easily have done, but instead balances the right amount of pathos with humor. Nor do they let this become an obtrusive commercial for Disney, but rather occasionally poke fun at Disney's commercialization. The parallel stories, too, are well-handled, allowing the darker moments in the past to create a generous emotional punch in the present without shoving the themes down the audiences' throats. The script is everything, and "Mr. Banks" is a winner.
Like a series of well-researched annotations or footnotes, "Saving Mr. Banks" surprisingly enhances "Mary Poppins." You'll never look at the classic film again knowing Travers' backstory. "Saving Mr. Banks" is a great story and has made "Mary Poppins" an even better one (if that's possible), or at the very least, a more emotional one.
While the Sherman brothers' classic songs pack one heck of an emotional punch in Travers' present, especially with the achingly beautiful "Feed the Birds," composer Thomas Newman deftly bridges the two eras and paints Pamela's childhood story with haunting melancholy and eclectic rhythms. Between the Shermans', Newman and Thompson's brilliant performance, there should be nary a dry eye in the house.
Walt Disney Pictures. MPAA Rating: PG-13. Running time: 2 hours.