Rosie Perez Wants Memoir About Tough Life To Be A Source Of Inspiration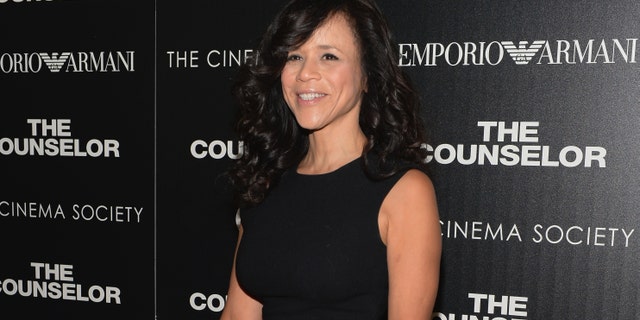 NEWYou can now listen to Fox News articles!
Before Jennifer Lopez and Selma Hayek became household names, there was Rosie Perez – a fiery, outspoken Puerto Rican who became one of best known Latina actresses in the 1980s for her work in "White Men Can't Jump" and Spike Lee's "Do the Right Thing."
Now, the feisty Brooklyn-born actress has published a new memoir, "Handbook for an Unpredictable Life," where she opens up for the first time about her traumatic childhood.
From being abandoned by her schizophrenic mother to shuffling from one foster home to another, Perez writes in raw detail about how those challenges helped her to become the woman she is today.
The Oscar-nominated actress, who has never been shy to express her feelings about others, said she decided to write about her past now because of her work with underprivileged children. She heads Urban Arts Partnership, an organizations that brings art education to New York City classrooms.
"We're always encouraging the kids to open up and tell us their stories, so they can get through the difficulties they face on a daily basis," Perez told Fox News Latino. "One day one of the kids said, 'Well Ms. Perez, what's your story?' and I froze. I felt like such a hypocrite because I kept it a secret for so long. That's when my heart started opening up and I felt a little bit lighter. Then I started telling it bit by bit to other people, and when the book offer came my way, I was ready."
Perez, who broke through boundaries for Latinas in Hollywood and the hip hop scene in the 1980s and '90s, said she spent the first three years of her life living with an aunt. At age 3, her mentally ill mother placed her in St. Joseph's Catholic Children's home in Westchester County.
As she was shuffled from foster home to foster home, she wrote, she was physically, mentally and sexually abused.
But she said she did not let that abuse scar her for life.
"You have to learn to leave your emotional baggage outside of the room in order to be successful," Perez said. "Sometimes people who have had difficult childhoods don't realize they are acting that way."
Aside from her tough upbringing, the book also delves into her highly publicized feud with Jennifer Lopez back when Keenen Ivory Wayans asked her to choreograph for the Fly Girls on "In Living Color."
Perez said she has since let the dispute go. And while the JLo spat is a small mention in the book, it's what the tabloids have been focusing on.
"I think she is wonderful and I am very proud of all of her accomplishments. It's a small part of the book. The bigger issue of the book is surviving childhood," she says. "The moral is – really, how do you not allow your past to completely define you as an adult? And how do you not allow the emotional responses that served to protect you as a child, not dictate your emotional responses today?"
Omar Hernandez, a friend of Perez who owns La Ranita restaurant in New York City, said her book will appeal to a wide range of audiences.
"It's about the fact that we all have the capacity to survive and actually become better people," he said.
Follow us on twitter.com/foxnewslatino
Like us at facebook.com/foxnewslatino