Roseanne Barr's ex-husband Tom Arnold believes actress wanted ABC sitcom to be canceled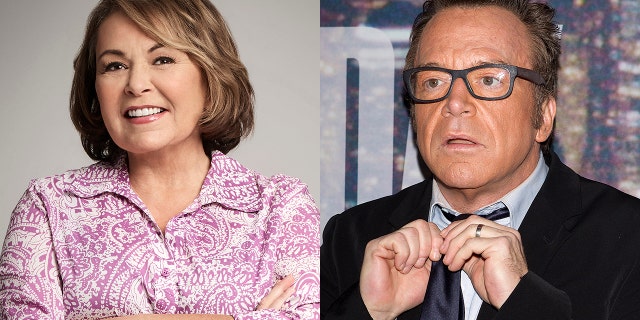 NEWYou can now listen to Fox News articles!
Tom Arnold, Roseanne Barr's ex-husband and former "Roseanne" writer, said Wednesday that he believes the embattled actress wanted the show to get canceled.
ABC canceled the reboot earlier this week after Barr posted a racist tweet about former President Obama's aide Valerie Jarrett. Arnold contended in an interview with The Hollywood Reporter the show was doomed anyway.
"It had to happen," Arnold told the magazine. "And I am going to tell you the truth, she wanted it to happen, if you saw how her tweets escalated this weekend. If it hadn't happened yesterday, this season would have been so awful for everyone every day because she would have felt like she was [being] taken advantage [of], just like when I left the show."
Arnold said the whole situation could have been prevented if someone took Barr's phone away.
"ABC lost maybe $1 billion from this; this show was grinding out money hand over fist and they lost it all because somebody didn't say, 'Get that phone out of her hand,'" Arnold said. "She's not going to go on TV and say these things. But you put that phone in her hand and she is a loose cannon."
Arnold said he went as far as trying to get someone from the Barr family or the "Roseanne" crew to take Barr's phone away and after he was told Barr wouldn't give up the phone, Arnold said he attempted to write a statement for her that would tell her fans she was taking a break from Twitter.
Arnold, who was married to Barr from 1990 to 1994, applauded the network's decision Wednesday to sack the show.
"Ton of respect for Bob Iger," he tweeted. "Tough decision with financial consequences for his company but right for America....umm… now don't bug Bob but maybe someone else find out if I'm still banned from all of @ABCNetwork for calling Roseanne Barr out first on her racist conspiracy tweets."