Roseanne Barr appears disheveled in first sighting since racist tweet and show cancellation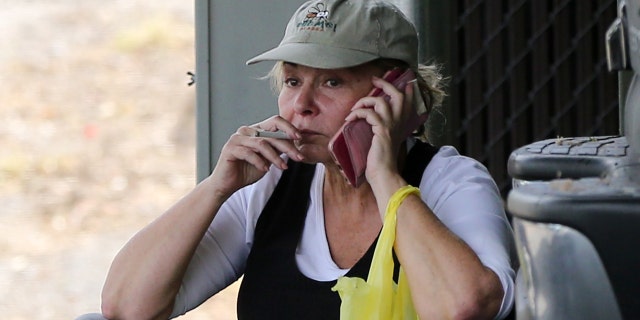 Roseanne Barr certainly hasn't had the best week. The shamed comedian said she "begged [Ben] Sherwood at ABC 2 let me apologize & make amends," before her sitcom was axed.
The 65-year-old was seen on Thursday in Utah, her home state. Barr looked visibly stressed as she was spotted sitting on a curb in a hat, cuffed jeans and flip-flops talking a phone call while smoking a cigarette. The comedian was nearly unrecognizable.
"I'm not going to talk to you except to say: Have a nice day. I believe in one law for all people. I love all people. Thank you," she told a paparazzo in video obtained by the Daily Mail.
Roseanne was scheduled to appear on the "Joe Rogan Experience" podcast Friday, but Rogan posted a statement on Instagram that the interview would not take place.
"The Roseanne podcast is not happening today. She's not doing well and doesn't want to travel, and she's gone radio silent on me, so I'm just going to step away. The whole thing has been pretty brutal on her, and I hope she can find some peace."
Barr lost her gig as a result of her posting a since-deleted tweet on Tuesday likening former President Obama's aide Valerie Jarrett to a baby of the "muslim brotherhood & planet of the apes."
The comments elicited wide criticism, which ultimately led to the next season of the hit reboot being canceled and to her talent agency, ICM Partners, deciding to drop her.
In the aftermath of the scandal, Barr tried to douse the flames of backlash and claimed that she was trying to reach out personally to Jarrett.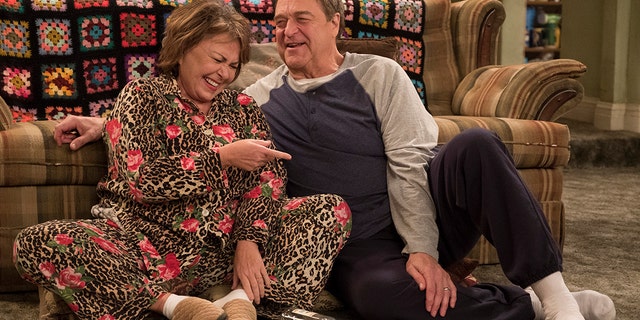 "Attempting to also get phone numbers for Jarrett, Michelle and GS to personally apologize to them tho I disagree with their politics," Barr tweeted. "I was still wrong 2 dehumanize them-they r not my enemy, harboring hate & anger is my enemy. I can speak respectfully 2 those w whom I disagree."
Amid the ongoing fallback for her comments, Barr returned to social media and retweeted an unproved claim posted by a right-wing activist, which accused ABC Entertainment President Channing Dungey of consulting the former first lady before canceling the reboot.
Barr tweeted Thursday that she asked "God2 help me use this bad experience 2 move in2 a better place where I can be more useful to help suffering people who are homeless battered & hopeless in this world, everywhere."
She continued on to say she is "so flawed" and thanked her followers for their "loving support."
Barr also said she "intended to bring ppl together" and said it was "a joyous experience" to get "to work on the Roseanne show again."
Fox News' Elizabeth Zwirz contributed to this report.