Robin Thicke's girlfriend April Love Geary hits back at breastfeeding photo criticism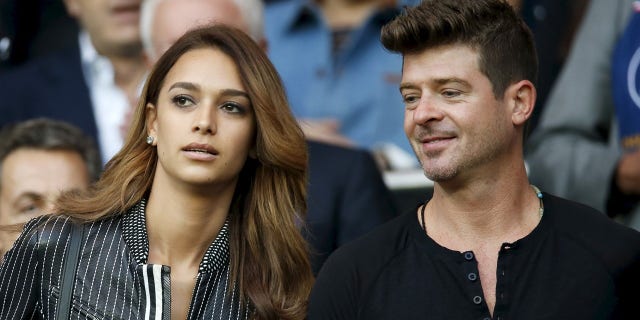 Robin Thicke's girlfriend April Love Geary hit back at British TV personality Chanelle Hayes and other critics after they slammed the new mother for posting a photo of herself breastfeeding.
Geary posted an Instagram photo Saturday of herself breastfeeding daughter Mia.
"MOM pic by baby daddy," Geary captioned the semi-censored topless photo of herself that was taken by Thicke.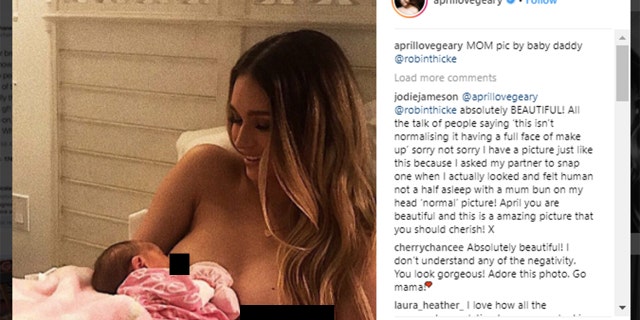 Hayes took to Twitter to criticize the 23-year-old and questioned "the need" for Geary to post the breastfeeding photo.
"I'm all for breastfeeding and having a choice how to feed your baby but WHY do people feel the need to post pictures of themselves doing it?!" Hayes tweeted. "Especially the new pic of Robin Thicke's gf! She's got hair done, makeup on, both boobs out. So strange. What's the need?? #opinions."
Several fans seemed to agree with Hayes and called the picture "extra." Some said Geary and other celebrities posted breastfeeding photos "for the likes."
Geary responded on Sunday with a screenshot of the tweet and a topless photo of Hayes.
"Maybe the next time you want to criticize me for posting a picture of myself breastfeeding you should really take a look at the pictures you've had taken," Geary wrote on Instagram. "Not that taking nudes are wrong! The naked body is a beautiful thing! But don't be a hypocrite mama."
Geary, who gave birth to her first child with Thicke in February, also took to her Instagram stories to defend herself.
"If you think seeing women post pics of themselves breastfeeding is weird then y'all need to grow up," Geary wrote. "It's just a boob. Calm down y'all."