Rita Moreno Says 'Latino Americans' Deserve More Award-Worthy Roles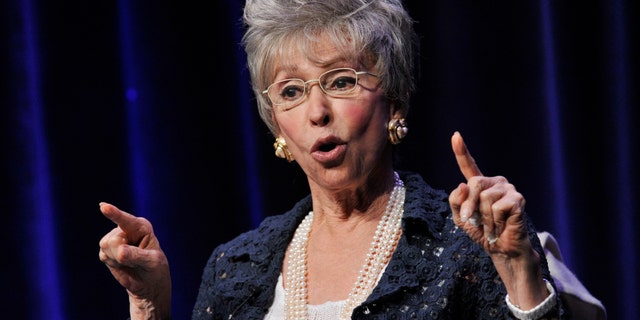 Ask Oscar-winning actress Rita Moreno why more Latinos don't receive top Hollywood honors and she'll say the answer is simple.
Moreno said it's because Hispanic actors aren't cast in the kind of roles that gather big nominations and awards.
Moreno spoke during a Television Critics Association panel on the documentary she is featured in called "Latino Americans," which PBS is billing as TV's first comprehensive look at Latino American history.
Benjamin Bratt, the three-part documentary's narrator, said Latino representation on the screen is "seriously wanting."
Bratt, whose mother emigrated from Peru as a teenager, added that historically Latinos have not been seen as part of the American history.
"American history always is from a Eurocentric point of view, and the real American history is so much richer than that," Bratt said during the panel discussion. "Even in 2013, we are still seen as the mysterious, exotic 'other,' even though we are as American as anyone else."
Along with Bratt and Moreno, the six-hour documentary debuting in September includes interviews with Dolores Huerta, co-founder of a group that was the forerunner to the United Farm Workers of America; writer and commentator and Linda Chavez; and musician Gloria Estefan.
Asked about the rarity of Hispanics on U.S. television despite Latino population growth and the "browning" of America, journalist Ray Suarez said commerce is part of the solution.
Businesses want to reach consumers without regard to ethnicity or language, he said, suggesting it's a trend Americans in general should get used to.
"I can't tell you how many times I've heard, 'I hate hearing press 2 for Spanish,'" Suarez said. "Why do you hate that? ... If you don't want to speak Spanish, don't press 2."
Based on reporting by The Associated Press.
Follow us on twitter.com/foxnewslatino
Like us at facebook.com/foxnewslatino