Ring of Honor stars say their wrestling is 'authentic'
As many wrestling fans have their eyes on WWE's Wrestlemania 33 this weekend, the Ring of Honor company celebrates its 15th anniversary, and the big players have plenty to brag about.

"In a world of professional wrestling where people like to think that they're in on the gag, this is a real as it gets," wrestler Matt Taven told Fox News.
On Saturday, Ring of Honor has Supercard of Honor XI coming up.
Wrestler Christopher Daniels said Ring of Honor is top-notch.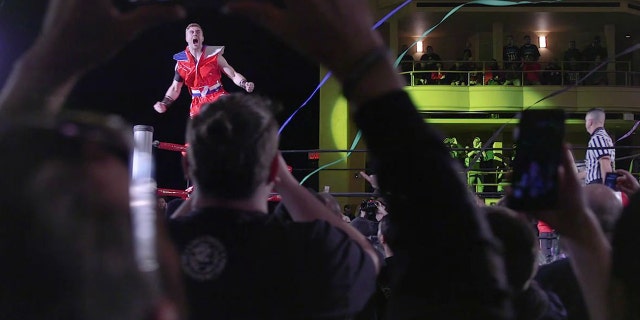 CHRISTOPHER DANIELS OPENS UP ABOUT BIG FIGHT
"Every day, every time our show runs we call it the best wrestling on the planet and that's a weighty title to hold," he said.
Cody Rhodes said Ring of Honor resonates because of its "consistency" and "its tradition."
Rhodes added, "It's been a factory for stars that would end up going to NXT(WWE) as the stars they were in Ring of Honor."
Ring of Honor COO Joe Koff said buying the company 15 years ago has paid off big time.
"I think that the magic of Ring of Honor is really in its brand," he explained. "It doesn't seem to matter if we're in our 15th anniversary or third anniversary show, the style of wrestling is what the people have come to expect and what they come to see."
FOLLOW US ON FACEBOOK FOR MORE ENTERTAINMENT NEWS
Koff said there are elements of Ring of Honor that set it apart from other professional wrestling.
"I think when you're at a Ring of Honor show and you see the magic that happens, it's hard to describe because it's organic," he said. "There becomes a moment in Ring of Honor that doesn't exist anywhere in professional wrestling where there's spontaneous cheering and spontaneous chanting and that's all organic and that's all authentic. I think Ring of Honor is probably the most authentic wrestling promotion out there today."
Taven echoed his sentiments.
"The reason why the fans can attach to Ring of Honor and attach to the guys that are in Ring of Honor so much is because there's no handcuffs on any of the guys in the back," he said. "You can see us right here. We're a group, but we're all … different individual personalities that have no restrictions. We go out there, and we're exactly the person we want to be and love us or hate us that's who we are."