PSY performs "Gangnam Style" at AMAs with MC Hammer: Dumbest duet ever?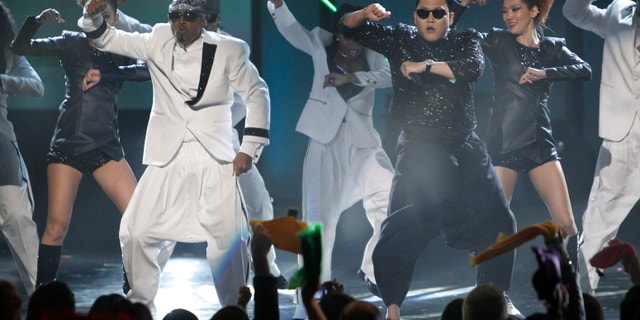 "Gangnam Style," the dance hit by endearingly strange and enthusiastic South Korean pop sensation PSY, is the biggest song in the world right now, and it closed the AMAs on Sunday night when PSY performed it with another oddball pop legend.
The performance was teased to feature a "secret international sensation," and a hint was given when PSY, whose real name is Park Jae-Sang, took to the stage in a sparkling black top and "Hammer pants."
SODAHEAD SLIDESHOW: See the dumbest duets ever.
Then, halfway through the energetic strobe-lit performance, the words "Stop, Hammertime!" were heard, and MC Hammer appeared next to PSY onstage for a mashup of "Gangnam Style" and Hammer's single "Too Legit to Quit."
The surreal, hilarious video for "Gangnam Style" has currently been viewed over 767 million times on YouTube, and it is currently the second most-watched video on YouTube; Justin Bieber's "Baby" is still number one.
PHOTOS: See the latest celebrity pictures to hit the Internet.
Which duet do you think was the dumbest of all time?