Pressure to Get Skinny Still the Fashion Norm, Even in the Plus-Sized Model World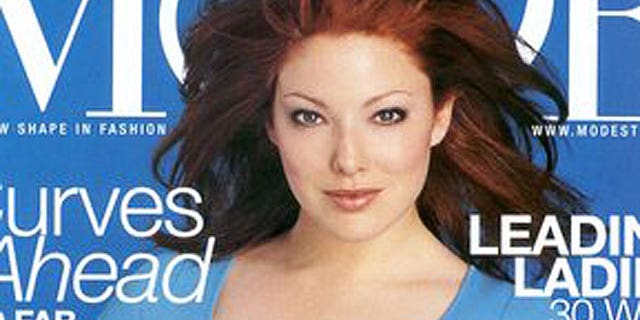 Kate Dillon, a fashion model, received quite a compliment when a top editor at fashion bible Vogue told her she was looking her best ever. The only problem was the praise came after Dillon had been vomiting for 10 days.
"I could have died," Dillon, 35, says now, looking back at her seven years as an anorexic model. "Had I not gotten help, at the very least, I would have faced severe health problems."
Like so many other professional models, Dillon's self-image demons were exacerbated by the constant scrutiny of the industry she was working in. Critics have lambasted the fashion world for its obsession with unnaturally thin physiques, but industry leaders have yet to take any real action to change the dangerous aesthetic.
Fashion legend Karl Lagerfeld recently dubbed Victoria's Secret Model Heidi Klum too fat to be a runway model because of her "too big" bust. A New York Times style writer slammed retailer JCPenney for carrying "obese" mannequins in size 12 and up. Vogue Editor-in-Chief Anna Wintour slammed the whole state of Minnesota for having women that look like "little houses."
Dillon remembers well the constant drumbeat to get thinner. "I was obsessed with starvation," she told FOXNews.com. "I would eat an apple as my only meal for a day, make midnight gym runs. I would try to sleep as late as I possibly could to avoid eating. The skinnier I got, the better they said I looked. But nothing was ever good enough."
PHOTOS: Click here to see photos of Kate Dillon.
Dillon finally decided to get out of an industry she said was "promoting an illusion."
"I remember thinking, 'Wow, if this is what it takes to be told I look great, I don't want to do this anymore,'" she said.
After a two-year hiatus, she returned to fashion at a healthy size 12 and became one of the industry's most famous "plus" models.
Dillon escaped her issues, but there are scores of girls walking the runways this week at the Mercedes Benz Fashion Week in New York with issues similar to the ones she faced.
"People who are attracted to modeling are often doing so because they are looking for outside reinforcement," says FOXNews.com mental health expert Dr. Keith Ablow. "The need to maintain a level of positive feedback about their looks to keep their self-esteem up results in a built-in occupational hazard in the industry."
According to Ablow, people who suffer from eating disorders like anorexia and bulimia put every system in their bodies at risk.
"It can potentially affect every aspect of your physiology and can certainly lead to death," he said.
And while some strides have been made to feature more realistic women in mainstream fashion, such as Glamour magazine's recent pledge to feature more plus-size models, even the plus industry often promotes difficult standards.
"I had an agent tell me to get plastic surgery or to lose an inch off my arms or 3 off my hips," plus model Christina Mendez, who is a size 12, told FOXNews.com. "They've told me they won't send me out until I make these changes. I can lose weight, but I can't pick and choose from where," she said.
PHOTOS: Click here to photos of successful plus size models.
Even the term "plus size" can be misleading, with models who wear sizes 8 through 12 being dubbed "full-figured," while the average American woman wears a size 14.
Moreover, the fashion industry is experiencing what Sommer Johnson, the editor of online plus-sized magazine Gemini, calls a "plus size recession." "I don't know of any plus-friendly lines that are being shown at New York Fashion Week," Johnson said. "Milan has pulled its plus designers from the fashion week runways. Even stores like Old Navy are gearing up to sell bigger sizes exclusively online."
"I think it's a real missed opportunity not to appeal to the mainstream woman," Dillon says.
But if women want to have more fashion choices for normal body types, plus-size singer Queen Latifah, who promotes healthy living through her work with weight-loss company Jennie Craig, says they have to work to change things themselves.
"We have to depend on ourselves to break ground and move forward on our own," she told FOXNews.com. "Seeing women in magazines never made me want to be a size 2, I just wanted to be me and be healthy.
"If you're not seeing someone who looks like you at Fashion Week, it's because you're trying to be something you're not. Be yourself and eventually there will be room for all of us."