Paris Jackson defends 'creepy' edited photo with late dad Michael Jackson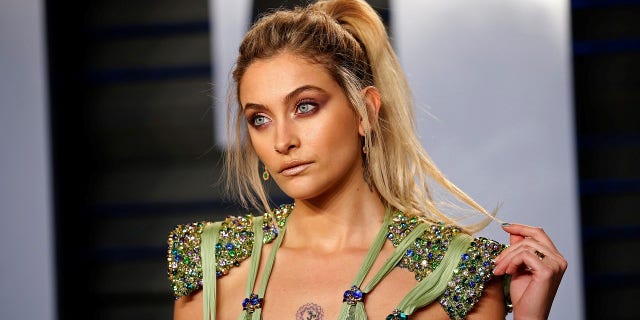 Paris Jackson posted Tuesday an edited photo with her late father Michael Jackson, which an actress had initially suggested was "creepy" until the model explained why she shared the image.
Jackson tweeted the black and white photo of her embracing the King of Pop, who died in 2009, and Debbie Rowe, previously married to the singer. Michael Jackson's hand is pictured resting on the 20-year-old model's arm while Rowe hugs her from the front.
The altered image drew support from some fans, but "Orange Is the New Black" actress Lori Petty was skeptical. Petty asked in a now-deleted tweet if the Jackson thought the altered image was "creepy AF [as f---]," according to the Daily Mail.
Jackson tweeted back: "no i think it's nice to dream about what it would be like to have parents, and to have it put into something i can see, even if it's a fan made edit."
The two friends seemed to make amends by tweeting "I love you" to each other.
"If you like it, I love it xx…didn't mean to be unkind," Petty said.
Other fans also showed their support by calling the picture "wonderful."
"I love this so much. I don't doubt he'd be so proud of you. I hope you know that. Love you lots keep being you and don't ever change," one fan wrote.
Another person tweeted, "paris, you're SO loved. never forget that."
Jackson was 11 when her father died. She had been raised by the pop singer following her parents' divorce. Paris Jackson then lived with her grandmother Katherine Jackson after the singer died.
Jackson reconnected with Rowe in 2016 following the mother's breast cancer diagnosis, Entertainment Tonight reported at the time. Rowe is also the mother to Jackson's oldest son, Michael "Prince" Jackson Jr.