Paris Hilton helped out Sofia Coppola with 'Bling Ring'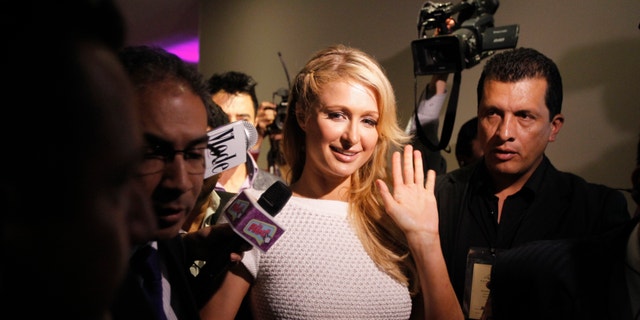 Cannes, France – "Coppola" and "Hilton" are two of the most instantly recognizable names in Hollywood.
Sofia Coppola, award-winning director, daughter of "Godfather" director Francis Ford Coppola, and cousin of actor Nic Cage, is Hollywood royalty.
Paris Hilton, heir to a hotel chain, star of "Simple Life," and most famous for a homemade sex video, is a very different kind of Hollywood fixture.
So it may seem odd that Coppola sought out Hilton's aid when filming her latest movie, "Bling Ring," a ripped-from-the-headlines tale of a ring of thieves who stole millions from Hilton, Lindsay Lohan, Orlando Bloom, and others in the 2008-9 Hollywood nightlife scene.
Using stars' own social media updates and the then-new phenomenon of Internet GPS systems, the ring hit their subjects again and again – stealing from Hilton alone five times.
Which is why Hilton was happy to let Coppola shoot on-location in her real house for some of the stealing scenes.
"[They] stole millions of dollars of my things: Birkin bags, family heirlooms, jewelry that was in my family for years, and then they sold it on Venice Beach like a yard sale," Hilton, who was in Cannes Thursday to help Coppola premiere the movie, told The Hollywood Reporter. "I haven't seen the film yet… I'm going to have to close my eyes for fear of seeing what they really did."
Coppola told reporters in Cannes on Thursday that "Los Angeles plays a key role in American culture. This is what we see in this film: a world of celebrities and reality TV. This story could not have happened anywhere else. These children lived right next to these stars."

But Coppola is trying her hardest not to let the movie make stars out of its criminals, because that is exactly what they wanted then, and some still want now.

"I changed the names of the characters so that those young people don't become more well-known," she said. "I met one or two of them. It was fascinating to hear them tell the details of their story. One girl wanted more than anything to see Paris Hilton's dog. You can't make that up!"

For her part, the film's star Emma Watson is just happy she isn't running from Voldemort anymore.

"I feel like 'Harry Potter' is in the past. It is still present, it is still in people's minds," she said. "I don't try and deny the work I've done in the past three or four years, my life has been incredible. I love playing these different characters, I'm very lucky."

So far "Bling Ring," slated to open this summer, is receiving positive but slightly mixed reviews. Hollywoodandfine.com reviewer Marshall Fine told FOX411 that Coppola to date has been hit and miss in her efforts.
'[I] loved 'Lost in Translation' and 'Somewhere,' hated 'Virgin Suicides' and 'Marie Antoinette,'" Fine said. "She's got her own approach but I don't always connect."
But Hilton, for one, isn't worried.
'Trust me, I would not have done it if she weren't directing," Hilton said. "I didn't even know all of what they did in my house till she told me about it."