Padma Lakshmi talks dating and food in Playboy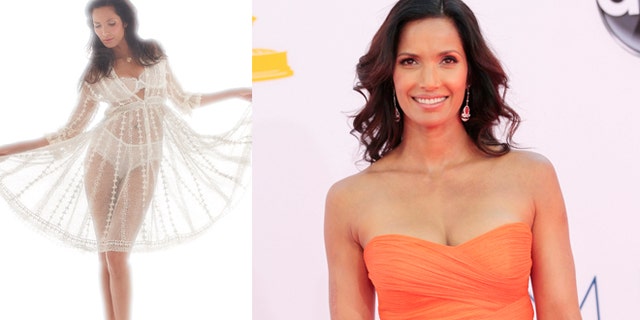 NEW YORK – "If I kissed you, I could probably tell you what you had for lunch," "Top Chef" judge Padma Lakshmi told Playboy in their December issue, out Nov. 20.

The Bravo host and former model explained that she has an "ironclad digestive tract," adding that she takes on a bit of weight while "Top Chef" is filming.

"…I usually gain between 10 and 15 pounds over six weeks each season," Lakshmi admitted in the magazine's 20 questions feature. "Then I spend 12 weeks working it off."
And even though she samples every kind of food on the reality competition, she's no fan of food TV shows.
"TV food personalities aren't interesting to me," she explained. "Bobby Flay, I'm sure, is a great guy, but I don't watch 'Iron Chef.' I don't even watch 'Top Chef,' to be honest."
One thing that does interest Lakshmi? A guy who can cook. She told Playboy every man needs to know how to cook a "beautiful roast chicken."
And she added that romantically, she is pretty easy to please. "I don't expect you to give me a birthday card or send me flowers. I don't need fancy trips. You could take me across the street. Don't get me wrong. That stuff's nice, but I am a physical and sensual person. I love to be held. I love massages. I'm just not a Hallmark kind of gal."
She also opened up about her three-year marriage to Salman Rushdie, calling their time together "tiring."
"He has a big life, and it only got bigger while we were together. I'm happy to have stood next to him holding his hand, but we were in very different parts of our lives."
Now Lakshmi is dating and she said she looks for certain qualities in the men she dates.
"I want someone who's a challenging adversary, who can tease me and get away with it, who can flirt and make me think and laugh and blush. But there's an art to that. You either have it or you don't."