Outcry over pro-eating disorder websites inspired by Hollywood's super-skinny celebs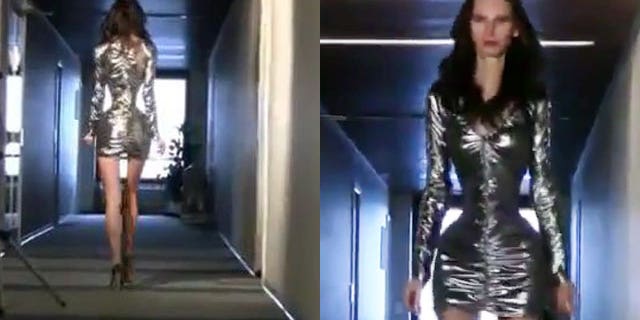 Celebrities seem to be getting thinner every day in our weight-obsessed country, so much so that a slew of websites have cropped up that use their images to tout some dangerous -- and potentially deadly -- eating disorders.
Known as "pro-ana," "pro-mia" and "thinspo" websites, they are dedicated to promoting anorexia and bulimia, and they feature photos of well known "poster children" for excessive skinniness.
A few weeks ago, a model named Ioana Spangenberg made headlines for her 84-pound frame and 20-inch waist. But "thinspo" devotees already knew all about her, as her image had been dominating the pro-ana website circuit for months.
Numerous other Hollywood celebrities have become poster children for anorexia, as young girls praise their bony bodies and smaller-than-average physiques. Hundreds of blogs, forums and content-sharing websites have exploded in the last few years, offering tips on how to starve yourself toward the goal becoming as thin as your favorite screen or runway star.
Now experts are telling Pop Tarts that it's time Spangenberg and other celebs, including Paris Hilton, Angelina Jolie, Gisele Bundchen and Mila Kunis, took action against sites that are using their images to encourage dangerous behavior.
"These sites are very dangerous, both for those who have an eating disorder and those who do not, but may be vulnerable," Susie Roman, director of programs at the National Eating Disorders Association (NEDA), told FOX411's Pop Tarts column.
Patrick Wanis, Ph.D., says the celebrity aspect further "exalts and glorifies anorexia, validating it as something positive rather than screaming out about how dangerous, destructive and even lethal it really is."
"When Hollywood stars' photos are used on sites that provide dangerous pro-ana/pro-mia content, we hope they will speak about the dangers and encourage healthy body image," Roman said.
While first amendment expert and trial attorney Deborah Drooz argued that there is little that the celebrity can do aside from speaking out if the photos are merely being used as an example of an aesthetic ideal, other experts disagree.
California-based attorney David Wohl noted that when celebrities find their image being used without authorization, they can sue the websites in question.
"The bloggers/website can be sued for misappropriating the images of the various celebrities for financial gain and that can lead to big damages and an injunction to cease and desist from using the images," he said. "Even if the bloggers and web sites are not making money off the images, the celebs can sue for invasion of privacy and get a court order to have the pics removed. "They can also ask that each of the websites issue a disclaimer that indicates the celebrities wholeheartedly reject the idea of promoting anorexia/bulimia as pathway to success for anyone."
A rep for Paris Hilton told is that she was not aware of these girls' websites and blogs using her image in this way and she doesn't support it.
"Paris supports a healthy and balanced diet and is not involved in any weight loss or diet programs," a rep for the entertainment personality said. "It's almost impossible to control how every photograph is being used on social media and personal blogs but if a company ever makes false claims using her name or image then it's always addressed with her legal counsel."
A spokewoman from Gisele Bundchen's camp also stressed that the supermodel "is the best eater, most athletic, healthy body & soul" and that the issue doesn't really impact them.
And while the presence of "pro-ana" and "pro-mia" is still very strong across the web, major social media platforms are taking action to curb the epidemic. For one, Tumblr recently enacted measures to ban self-harm sites from its blogging platform.
"One of the great things about Tumblr is that people use it for just about every conceivable kind of expression," a rep for Tumblr wrote on the site last week. "People being people, though, that means that Tumblr sometimes gets used for things that are just wrong."
NEDA is also urging all web users to join the fight against the dangerous "thinspiration" and "pro-skinny" movement.
"NEDA is currently working on resources that target the dangers of pro-ana/pro-mia sites for our many Media Watchdog volunteers that want to use their voice to create positive change," Roman added. "We hope that people will join the Media Watchdogs and help put pressure on those in a position to combat the proliferation of these dangerous sites."