Oscar TV: Weinstein buys TV time to promote Judi Dench, 'Philomena' ahead of voting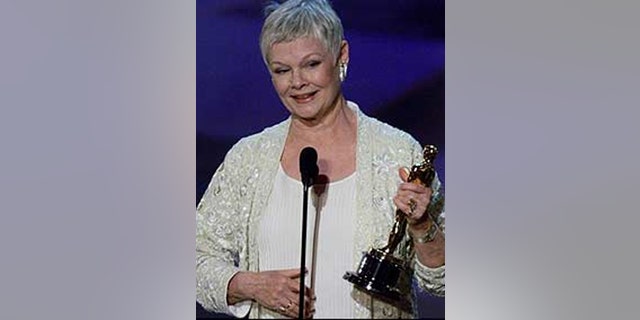 NEW YORK – Open up any entertainment industry trade magazine and you'll see full-page advertisements – paid for by the studios – congratulating their award season nominees and hopefuls.
Click on Deadline.com and you get banners from Disney praising the team behind the nominated "Saving Mr. Banks," or Variety.com, which boasts a "Philomena" clips and positive critic quotes in its side ads.
But for producer Harvey Weinstein, that's not enough.
On Monday night, as indicated by a pre-program disclaimer, The Weinstein Company bought out a half-hour slot on CW's local Los Angeles affiliate KTLA to re-air "Judi Dench: An Actor's Journey."
The popular 7 p.m. pre-primetime slot pre-empted CW's rerun of the hit sitcom "Two-and-a-Half Men."
One well-placed industry source estimated that the timeslot purchase could have cost up to $2 million dollars.
"Money well spent," observed Ari Zoldan, CEO of digital and communications company Quantum Networks. "It was a clever move, awards season is a cut-throat and competitive space to play in so any kind of competitive edge would only help."
Dench is an early Best Actress favorite once again for her role in Weinstein's "Philomena," and has already garnered SAG, Golden Globe and Critics Choice nods.
Oscar voting by Academy members closes at 5pm PST this Wednesday, with nominations for the March 2 showdown to be announced next week.
Weinstein's strategic decision appeared to target the large majority of the 6,000 Academy members who live in L.A.
Billed as a "retrospective of the Academy Award-winning actress' career and an insider's look at her film 'Philomena," the 15 minute offering functioned as something of a timely infomercial for Dench and "Philomena." The film is already a hot-runner for Oscar glory, having been nominated for an array of honors and is up for three Golden Globes this weekend.
"This does take awards season campaigning to a level beyond the ads in the trade publications, the L.A. Times, Beverly Hills Courier and billboards that have been the norm in the past," Glenn Selig of Selig Multimedia and The Publicity Agency, told FOX411. "It's hard to say what impact it will have on Oscar voting, but it certainly lets movie producers know that Weinstein is a studio which supports and goes out of its way to back its films. And if you have a winning product, Weinstein is the place to go."
"Judi Dench: An Actor's Journey" is, not surprisingly, a Weinstein production. With Maria Menounos as host, it was first released in late November and aired a few days later on the Sundance Channel.
Perhaps Weinstein, an avid campaign supporter of President Obama, learned a thing or two about TV while fist-pumping for the Democratic nominee?
"Weinstein is definitely taking an elections approach to Oscar campaigning. By taking it outside the trades and traditional venues, he is also reaching the general public," added Selig. "That could help sway Oscar voters indirectly through word of mouth and social media and help push the general public to watch the movies if they haven't already."
The Weinstein Company and KTLA did not respond to a request for comment.
Danielle Jones Wesley contributed to this report.