Oscar rehearsals beckon a parade of dressed-down stars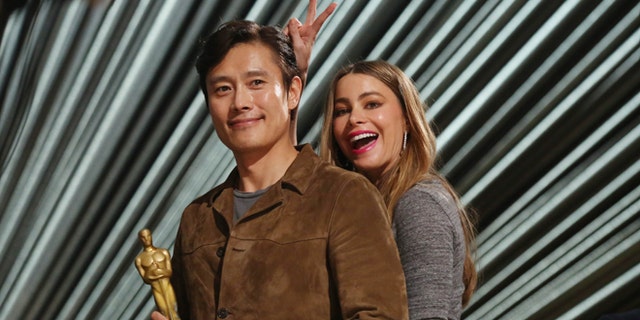 NEWYou can now listen to Fox News articles!
Jared Leto presented an Oscar to Margot Robbie. Patricia Arquette gave one to Morgan Freeman. Chris Evans tried to claim a golden guy for himself. Kevin Hart, meanwhile, took a quick call while standing on the Oscar stage.
Saturday is rehearsal day for the superstar presenters appearing on Sunday's Academy Awards, and a parade of celebrities came through the Dolby Theatre to practice reading their lines and hitting their marks.
Click here to subscribe to FOX411's YouTube channel
The ever-confident Hart — who told the person on the other end of the phone line, "I'm doing this and I'm out" — said he expected his rehearsal to be a "piece of ca-za-ke."
"Where am I sitting?" he asked no one in particular. "I was about to say all the black people should be in the first row."
The comedian arrived wearing track pants and sneakers, which worked out well as he had to move quickly when a large stage element came crashing down after he finished his lines.
"That's what rehearsals are for," he said as a dozen stagehands worked to put the fallen piece upright. "All right, guys. My part was great, though!"
Arquette improvised as she read the nominees in the category she's presenting, describing one as "very foxy" and awarding the prop Oscar to Freeman, who is not nominated.
"It's a total upset victory!" she said with a giggle.
When Whoopi Goldberg returned to the Oscar stage, she addressed the audience of rehearsal actors.
"You guys are sitting (here) all day? Good God," said Goldberg, who has hosted the show four times. "But it's kind of neat, right? I like it, too."
Leto and Robbie laughed through their rehearsal. First, Leto read the actress' name when he opened the winners' envelope, then he intentionally fumbled the prop Oscar (in this case, a plain plastic water bottle) and dropped it on the floor.
Cate Blanchett was the most scrupulous in her rehearsal, running through her presentation several times.
"Is it here? Did I stop in my spot? Ish?" she asked the stage manager, adding, "You can always re-cast."
Other stars rehearsing Saturday included Emily Blunt, Kerry Washington, Ryan Gosling, Julianne Moore, Sofia Vergara, Eddie Redmayne, John Legend, Common, Benicio del Toro and Russell Crowe.
A look at the star-studded Oscar rehearsals:
SEAT SPOTTING: For many of the stars rehearsing Saturday, finding their seats inside the Dolby Theatre is among the most exciting elements. Celebrity seats are marked with photo placards during rehearsals.
"I know that guy!" Evans declared when he spotted his face card from the stage.
"(Jason) Sudeikis has got a good seat. How'd he get that seat?" Tina Fey asked Steve Carell about their "Saturday Night Live" colleague during rehearsals. Sudeikis is attending the show with fiancée Olivia Wilde, who is a presenter.
"We're in the second row," Carell pointed out.
"Not too bad," Fey replied.
SHOE SITUATION: While the men rehearsing Saturday wore sneakers or other casual shoes, most of the women tried out the towering high heels they plan to wear during the show.
Cate Blanchett paired giant silver platforms with her black jumpsuit. Sarah Silverman, who arrived in sneakers, camouflage pants and a ball cap, remembered just as she was rehearsing her lines that she'd meant to wear her show-day shoes: tall black stilettos.
Jennifer Garner was dressed down, except for her sparkly black shoes.
"Aren't they pretty?" she asked rhetorically. "They have to be to go with this beautiful (stage) design."
The stage is dressed in a glam, 1970s-inspired theme incorporating thousands of Swarovski crystals.
The Oscars air Sunday on ABC.