On the Set: Parks and Recreation Plans to 'Go Big or Go Home' in Season 3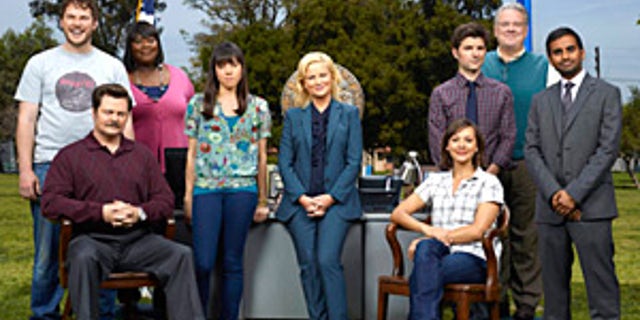 In a rousing moment from the Season 3 premiere of Parks and Recreation, Leslie Knope excitedly rounds up her disbanded department. Since Pawnee's local government went out of business at the end of last season, Tom's been working at Foot Locker, Ron's been in his wood shop, and Jerry ... well, Jerry's been relaxing happily. With her troops gathered, Leslie makes her Hail Mary play, a bold proposal to the state auditors threatening to shut down the broke branch for good.
"She's like, 'Go big or go home,'" says Amy Poehler, who plays Pawnee's chirpiest and most resilient civil servant. "'I say we put on this giant harvest festival. We try to get all the vendors, all the people in town, we raise the money we need for the parks department budget. If we don't make it, we're all fired.'"
NBC discusses changes at Parks and Rec, 30 Rock and The Office
Leslie's high-stakes dilemma is not unlike the one faced by Parks itself. While the comedy about the misadventures of small-time government became a critical darling last season, its lukewarm ratings remained stagnant. As a result, NBC held the series from its fall lineup -- benching it for what will amount to eight months by its Jan. 20 return — even though the show had completed six episodes early.
"We were surprised and obviously disappointed ... Our feeling was that the episodes we'd made to that point were really strong," says Parks executive producer Mike Schur, who proceeded to take a page from Leslie herself. "It sounds a little corny, maybe even a little community theater-ish, but when we got the bad news our thinking was to just put our heads down and do the best show we could."
So months later, on an unseasonably warm day in November, the cast is still in high spirits on set. Parks will need to prove it can attract new viewers in the new year, but for now, everyone is confident in the stories they've been spinning — even while stuck in a vacuum.
Check out photos from Parks and Recreation
"We've got so much good s--- that no one's even seen," says Chris Pratt, who plays bungling-but-lovable shoe shine guy Andy.
Parks fans have plenty to look forward to in the seven-episode build-up to the harvest festival (featuring a real-life corn maze). Will Forte will guest-star as a citizen demanding that Twilight be included in the town time capsule. Andy will find new ways to beg April's forgiveness, and spend a day bonding with Ron (featured line: "You had me at meat tornado.") The writers have also worked up an extra-kinky sequel to last season's "Ron and Tammy" episode, the mere mention of which makes several of the other actors squirm — with delight. Jim O'Heir, who plays Jerry, mentions cornrows and a kimono. Adam Scott, who plays state auditor Ben, offers: "Oh, it's epic. Animal noises. I can't say more than that."
Catch up on today's latest news
"It made me exceedingly uncomfortable," says Nick Offerman, who plays Leslie's anti-government boss Ron. He's only half-joking. "My wife [Megan Mullally, who plays Tammy] goes deep, both figuratively and literally, with both hands ... I can't really remember much of what happened. It was kind of hallucinatory. I do remember that Jerry loves to watch, it turns out."
At one point, Offerman, who biked to set from his real-life wood shop, checked in with the show's publicist to discuss an invite he'd just received to appear on Conan. The premiere is still three months away, but the cast has been jonesing to start spreading the word.
"It's oddly frustrating," says Rashida Jones, who plays Leslie's friend Ann. "The bottom line is that our product is good, it's hilarious. You know what it feels like? It feels like I'm playing really good intramural women's volleyball ... Everyone's on their game, the voices are so clear, the volleying is good — it's just intramural because we're not on the air, so it's not like televised sports."
NBC adds third Thursday night comedy hour
Parks may be returning later than they expected, but NBC's is giving the show a real chance to grow its audience by slotting it at 9:30 on Thursdays, where it will follow the network's most-watched comedy, The Office. (The pilot for Parks, which premiered after The Office, was seen by 6.77 million viewers and remains the show's highest-rated episode.)
"I've always thought they'd pair well together," Poehler says, noting that it's never been regularly slotted after The Office.
At the same time, Parks may still be fighting the perception that it's too similar to The Office, a critique that followed its 2009 launch; it's well-known that the show is a product of the same creative team, and both workplace comedies are filmed in the same mock documentary style.
Fans, however, already know that's where the similarities end. At Parks' center is not a buffoonish boss, but an uber-optimist, whose plans are, yes, sometimes wacky. And the themes are different, Schur says, explaining: "Parks is very much more outdoors and bright and cheery. It's not about sad, depressing office culture. It's about community and your hometown and civic pride."
Poehler says the department will rally together more often and on more projects this season. "I always think the show is at its funniest when this dysfunctional family has to come together," she says. "And not to sound hokey, but also, no one's afraid of real moments on this show, and I love that." Watch for the birthday party Leslie throws Ron midway through the season — and the revealing heart-to-heart that follows. ("It had me in tears," Jones says. "It totally broke my heart.")
And take state auditors Ben and Chris, played by Scott and Rob Lowe, a couple of budget slashers called in at the end of last season to shut down the government but who soon find themselves falling for Pawnee. "Leslie can do that to anyone," Scott says. In spite of Ben's own disillusioning experience as a teenage mayor, "Ben makes friends, and he kind of falls for Leslie and her spirit."
Scott says he hopes people will fall for Parks for the same reason. "The show has so much heart, it really does. It's not sentimental, but it's very sweet — which I think makes it all the more hilarious when you're emotionally invested in these characters."
View original On the Set: Parks and Recreation Plans to ���Go Big or Go Home��� in Season 3 at TVGuide.com
Related Articles on TVGuide.com
Other Links From TVGuide.com