Nudity on in-flight entertainment unregulated, easily viewed by children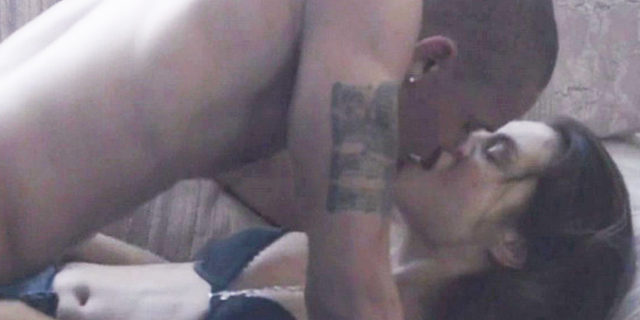 LOS ANGELES – In the good old days, when you flew on an airplane, you and everybody else had to watch the same heavily edited, middle-of-the-road, fairly awful film or TV show on a tiny flickering screen suspended from the ceiling a few rows ahead of you.
(And we liked it that way!)
Today, you get to choose from a smorgasbord of movies and TV shows, and watch them all by lonesome on a nice bright screen on the back of the seat directly in front of you. There's just one problem. Sometimes, the person next to you may be watching an R-rated film, complete with the original's nude scenes, whether you want to see it or not. Or you yourself may be flipping through channels and see a show containing the same kind of graphic content.
That's what happened to author Bob DeMoss, who was shocked when bare breasts and a sex scene confronted him on a recent Delta flight from Los Angeles to Atlanta when he decided to tune into the free on-demand, Starz Channel political drama "Boss."
"I didn't expect for a woman to bare her breasts six inches from my face on an airplane. This was a deliberate full-frontal exposure. I was seated in 'sardine class' where every one of the 300 seats was taken on this massive 777LR jet, and when the blonde tore her top off and reached for her partner's zipper, I instinctively grabbed a vomit bag to cover the action unfolding on the TV monitor inches from my face," DeMoss recalled. "I held the bag in position until both the gratuitous nudity and ensuing sex scene passed. I could tell the offending material was over when the grunts, groans and moans in my headset gave way to dialogue in a new scene."
While "Boss" played out on the small screen mounted behind the seat in front, DeMoss said that the content was "visible to anyone in (his) row, those walking in the aisle, or in the seats behind" and the incident has since prompted him to ask several questions.
"Can reasonable adults at least agree there is something seriously wrong about offering that sort of sordid fare on an airplane where children and discerning adults are present? Delta makes a big deal about their efforts to recycle aluminum cans, plastic bottles, and newspapers to preserve the environment," he continued. "Their website even asserts: 'Delta is committed to preventing pollution wherever possible.' Maybe one day Delta will be equally convicted about polluting the moral environment of their passengers."
A spokesperson for Delta told FOX411's Pop Tarts column that the airline "offers hundreds of movie and television choices through in-flight entertainment programming" and that the company strives "to provide content to fit our customers' many preferences."
"We also take the additional measure of ensuring that any programming with mature content is preceded by a content warning, putting the choice of whether or not to proceed with viewing, in the customers' hands," the rep said.
Yet the tales of in-flight entertainment nudity spread far and wide, and Delta is not the only airline that broadcasts what many critics consider inappropriate.
One flyer said that he once tuned into the Luke Wilson/Vince Vaughn comedy "Old School" while in-the-air, but had to turn it off when the first intimate scene heated up for the sake of children close by. Other parents have been forced to keep their young ones distracted from the violent R-rated "Shooter" while on-board United Airlines, and another passenger told us he was left red-faced on an international Virgin flight "due to the extreme nakedness" that flashed on the screen as he flicked through the channels.
"I didn't want to look like a pervert or offend anyone," he remarked.
Indeed R-rated and/or sexually-charged programming are commonplace on U.S. flights. Virgin America currently boasts the broadcast of R-rated films including "This Means War," "21 Jump Street," "Rampart" and "Wanderlust." Delta is on-demand offering the raunchy comedy "Ted," in addition to agenda-pushing HBO shows like "Girls." United Airlines has a (T) warning – meaning adult themes– against a slew of its current television shows including "Cougar Town" and "The Office."
A rep for United Airlines said "we edit our overhead programs to remove profanity, certain types of violence and other content so that it is appropriate for a wide audience," adding that the programs on personal entertainment systems, where customers can use their own discretion when ordering content, play as they would theatrically, although the airline "still may edit some of it."
A rep for Virgin America said the airline offers every traveler a seatback touch screen with 25 on-demand films, live and premium TV, which does include some R-rated content. Virgin does not edit the content.
"However, our touch-screen entertainment platform Red is very unique when it comes to our littlest guests and almost universally loved by those traveling with children," said the rep. "In addition to our video games, movies, TV, Google maps and more – our in-flight entertainment systems have parental control settings (so you or a crew member), can set content to a 'G' rating for the individual touch-screen."
In-flight movies and television shows are not subject to federal broadcasting regulations, and airlines are not required to adhere to Motion Picture Association of America (MPAA) ratings and television standards. As it stands, in-flight entertainment is effectively self-regulated, in which airlines purchase special versions of films and television shows directly from the studios, often edited for content and length. A rep from MPAA told us that if the airline shows the version the association has rated, it has to show the rating, but many airlines edit movies and therefore cannot use their pre-determined rating as a result.
Melissa Pauléat, a communications specialist for Inflight Productions (IFP) – the largest In-flight content services provider on the market – said that IFP provides "customized services" and edits and acquires content in order to respect the editorial wishes of each of their airline clients.
"Our content (audio and video) is carefully screened by specially trained teams in our offices across the globe," she said. "Passenger complaints regarding content are taken into account directly by the airlines and sent through to our teams for adjusting if and when needed. As the content is already pre-screened and we work closely with the airlines to ensure we meet their required viewing standards, complaints are limited."
Some policymakers have tried to intervene, but with nittle success.
In 2007, Rep. Heath Shuler introduced the Family Friendly Act of 2007 bill, which strove to require that airlines with in-flight movies provide a "safe viewing area" for children and an adult companion. However, the bill failed to make it through the committee. The Parents Television Council (PTC) has also been fighting the issue for years, working with grassroots efforts and remaining in communication with executives at major U.S. airlines.
"The only way to get the airlines to change their policies here is for consumers to take their business elsewhere, and tell the airlines why they are doing so," said PTC rep Melissa Henson. "Unfortunately, even if we were able to get the airlines to comply, and offer only family-suitable entertainment, we cannot control what other consumers watch on their portable devices and laptops. Perhaps some airlines could help families by making certain rows or designated areas, in the front of the cabin, for example, available to families traveling with small children, it could solve a lot of problems."
According to former Criminal Prosecutor Loni Coombs, author of the parenting book "YOU'RE PERFECT… and Other Lies Parents Tell: The Ugly Truth About Spoiling Your Kids," it all comes down to the competing interests of airline owners wanting to lure in adult passengers with edgy entertainment, rather than looking out for impressionable young children.
"Watching violence and graphic sex is not good for young children who cannot understand what they are seeing, but are perfectly capable of trying to mimic it – sometimes with dangerous or deadly results," she lamented. "It is a sad day when concerned parents have to actively push to get legislation passed to stop or restrict adult content on planes, rather than airline owners exercising their own good judgment and standards of decency and deciding on their own to not allow such content their planes, accessible to underage children."