Nikki Bella says she felt 'off' after getting engaged to John Cena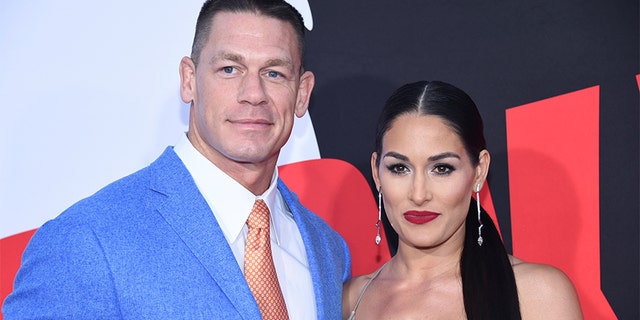 NEWYou can now listen to Fox News articles!
Nikki Bella's engagement to John Cena may have been doomed from the start.
An episode from Season 2 of E!'s "Total Bellas" airing May 20 reveals the professional wrestler struggled with her desire to be a mom, despite Cena's clear stance against having children.
People magazine reported Monday the 34-year-old admitted she never thought she could have such a strong bond with a baby while playing with her twin sister Brie's daughter Birdie.
"I just look at Birdie's face and never thought I could have this connection with a baby," said Bella. "I want to give her everything and make sure she has the greatest life. I've never felt that unconditional love."
Brie suggested her sister's bond with Birdie could be a sign that she was meant for motherhood.
"Or Birdie is placed here on this planet to let you know you can have a connection like that with your own," she said.
Later in the episode, Brie confronted Nicki and asked if seeing her niece growing up made her regret about her decision to give up having children for Cena.
"I was like 100 percent OK not being a mom but Birdie just gets cuter by the day," said Nicki.
She added she tried to bring up the subject of having kids again to Cena, but his response was "absolutely not."
"It's such a load of s---," Brie responded. "Nicole, what the f--- are you doing? There's someone out there who will marry you and give you babies. Someplace in your heart you have to be like, 'I love you, you're a great man, you're just not for me.'"
Nicki shared she felt "off" since getting engaged to the 41-year-old fellow wrestler.
"… I just know deep down I want a baby," she said. "I want to be a mom, and I feel like I can't live the rest of my life not having one."
When she sat down with Cena to address her concerns, she began to cry.
"I would never force you to be a dad," Bella told Cena.
"I would never force you to become a mom," he responded. "I told you so many times this would happen… I'm not sure we should go through with this."
Bella and Cena announced in April they called it quits after six years together, canceling their wedding that was fast approaching.
The couple described their decision to end their engagement as very "difficult" in a statement on Instagram.
Cena proposed to Bella in 2017 at Wrestlemania 32.
At the time, Bella told Fox News the engagement was one of the happiest days of her life.
"It was shocking but amazing," she gushed. "I totally understand now when they say it's like one of the top three most amazing moments of your life. I have never felt what I felt that way before. It truly was magical. Just absolutely magical."