Newsman Jim Lehrer dead at age 85
PBS NewsHour co-founder and longtime anchor Jim Lehrer died Thursday at age 85, the organization said in a press release.
Lehrer, who made a name for himself covering the 1973 Senate Watergate hearings on PBS, passed away in his sleep, the press release said. He and Robert MacNeil founded PBS NewsHour in 1975. Lehrer retired in 2011 after anchoring the network's flagship news program for 36 years.
AFTER TRUMP AGAIN SEEKS TO DEFUND PBS, NETWORK'S CHIEF INSISTS NETWORK PROVIDES 'HIGH VALUE'
"With heavy hearts we report the death of PBS NewsHour co-founder Jim Lehrer at age 85. A giant in journalism, his tenacity and dedication to simply delivering the news remain the core of our work," PBS NewsHour said on Twitter.
Katie Couric, who's worked for news broadcasts on ABC, CBS and NBC, paid tribute to Lehrer on Twitter. "Jim Lehrer was a legendary journalist and anchor. May he rest in peace.❤️," she tweeted.
House Speaker Nancy Pelosi, D-Calif., reacted to Lehrer's death, writing: "Our nation has lost a champion for truth and transparency."
Throughout his career, Lehrer interviewed influential figures, including Margaret Thatcher and Yasser Arafat in the 1980s, South Korean President Kim Daejung and Chinese leader Jiang Zemin in the 1990s, and Jordan's King Abdullah and Afghan President Hamid Karzai in the 2000s, the press release said.
He also moderated 12 presidential debates — more than any other individual in U.S. history. He moderated every presidential debate leading up to the 1996 and 2000 elections. President Clinton awarded him the National Humanities Medal. He also was elected a fellow of the American Academy of Arts and Sciences and was inducted into the Television Hall of Fame.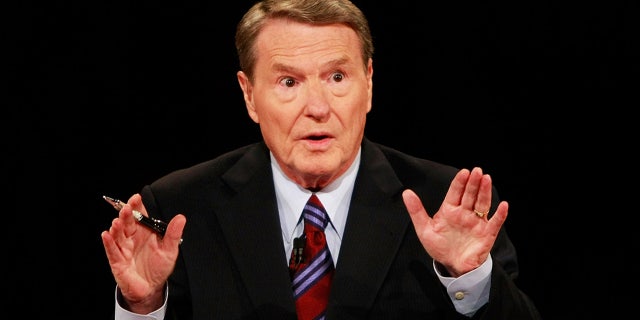 "I'm heartbroken at the loss of someone who was central to my professional life, a mentor to me and someone whose friendship I've cherished for decades," Judy Woodruff, anchor and managing editor of the PBS NewsHour, said in a statement. "I've looked up to him as the standard for fair, probing and thoughtful journalism and I know countless others who feel the same way."
Sharon Percy Rockefeller, president and CEO of WETA, also offered her condolences and praised Lehrer as "one of America's most distinguished journalists and a true champion of excellence in reporting."

"Jim set the gold standard for broadcast journalism in our nation and devoted his life to a vital public service ― keeping Americans informed and thereby strengthening our civil society," she continued. "Through his extraordinary insight, integrity, balance and discipline, Jim earned the trust of the American people, and his important legacy lives on at PBS NewsHour."
CLICK HERE TO GET THE FOX NEWS APP
Lehrer is survived by his wife Kate, daughters Jamie, Lucy and Amanda, and six grandchildren.
Before working for PBS, he also reported for Dallas public television station KERA, the National Public Affairs Center for Television, the Dallas Morning News and the Dallas Times-Herald. He attended Victoria College in Texas before studying journalism at the University of Missouri. He served three years as an infantry officer in the U.S. Marine Corps.