New Yorker unveils polarizing cover depicting Trump falling down escalator onto his face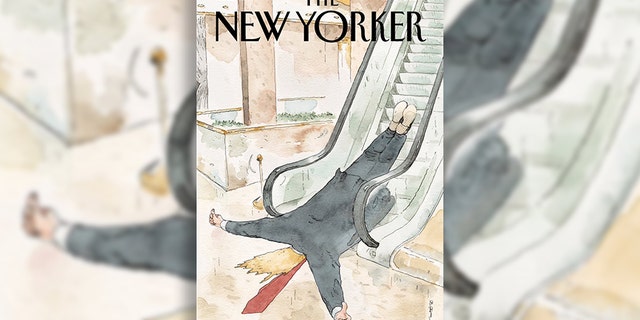 The prestigious New Yorker magazine unveiled its latest cover on Thursday, depicting an illustration of President Trump falling down the Trump Tower escalator and landing flat on his face but still managing to give his signature thumbs up.
Conservative media mogul Matt Drudge, who shared the cover on Twitter, captioned the image, "The Left's continued fetish for Trump's physical harm/death is stunning." The reactions to Drudge's message were swift, with many followers proclaiming that a similar image featuring President Obama would be deemed would result in widespread media hysteria.
"I hope nothing comes of this. We have lost presidents to violence before and it is a horrible thing for every American," one user responded.
Another user wrote, "The Left is literally begging for somebody to assassinate Trump."
One more user added, "What prompts such hatred of the Prez? Why not fight him effectively with facts? They can't find any that support their side."
Others disagreed with Drudge's interpretation, responding that the cover is simply a metaphor for a president who fell "flat on his face" during a week that has been criticized by pundits on both sides of the aisle following a controversial press conference with Russian President Vladimir Putin.
New Yorker art editor Françoise Mouly wrote: "A little more than three years ago, Donald Trump descended an escalator in Trump Tower to announce his candidacy for the Presidency. That image makes a return in Barry Blitt's latest cover."
Blitt – who has illustrated other anti-Trump covers for the magazine – discussed turning "political outrage into humor" when explaining his concept in an interview with Mouly that was published when the cover was unveiled.
"I can tell you that outrage makes for easier humor than agreement does -- but, then again, agreement can be pretty hilarious," Blitt told the magazine.
Blitt explained that his job entails saving "absurd or iconic" moments and he doesn't plan to stop mocking Trump anytime soon.
"You can expect that soccer ball that Putin gave Trump to appear in an image in a year or two, probably," Blitt said.
Time magazine also unveiled its latest cover on Thursday, taking a different approach to mocking Trump's meeting with Putin. Time's cover combines the faces of the two men and tweeted a video of the bizarre transformation occurring.