Nancy O'Dell's 'ET' Gig One TV's Biggest Coups in Past Few Years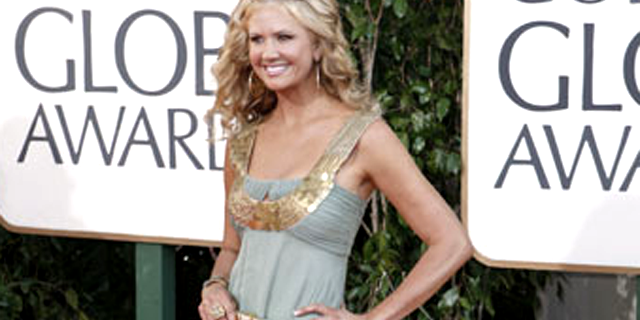 TV is filled with stories of stars who moved in at the last minute to snatch up a marquee job.
Jay Leno cut in front of David Letterman when Johnny Carson retired. Dan Rather hip-checked Roger Mudd out of the way for Walter Cronkite's chair.
When it was announced a few weeks ago that Nancy O'Dell would be succeeding the retiring "Entertainment Tonight" anchor Mary Hart -- and not Lara Spencer, the longtime host of the "The Insider" and Hart's heir apparent -- you could have heard a pin drop on Hollywood Boulevard.
It's one of the more astonishing TV coups of the past few years and O'Dell, who quit her job as anchor of "Access Hollywood" last December, promises it wasn't planned.
First of all, O'Dell told The Post, she still had two years left on her contract.
"And I'm sure 'Access' wouldn't have let me out of my contract if they had known" that "ET" was interested, laughs O'Dell.
That's sort of the point. Everyone in the TV business believed the job was taken.
Last August, when Hart announced she was leaving "ET" after nearly 30 years, it was widely believed Spencer would get the top job. "ET" executive producer Linda Bell Blue had reportedly coaxed Spencer to move her family to LA with the promise of eventually replacing Hart.
But, according to an industry insider, the decision to go with O'Dell was CBS boss Les Moonves' (his network owns "ET"), who apparently believed O'Dell was the best way to maintain warm ties to celebrities.
O'Dell says she anticipated none of this when she walked away from "Access."
"I had feelers out there and had taken meetings," she says. But there'd been no promise of an "ET" job.
She landed a few smaller jobs right away: a reality competition show for Oprah Winfrey's OWN network that debuts next month, as well as a chance to host Fox's New Year's Eve special this Friday night.
It all came about because O'Dell was unhappy at "Access Hollywood," sources say.
"It didn't feel like the right fit anymore," says O'Dell. "I think after you reach a certain level of maturity and a certain point in your career and you know what you want and what you feel good about, you know when it's time to make a change.
"'ET' is the gold standard," she says. "Celebrities trust it and they know what they're going to get when they go on. Obviously, audiences like it too."
Her first day on the job at "ET" -- where she is a correspondent until next May -- "felt weirdly like home," says O'Dell.
"The people feel right, the executives feel right, the fellow correspondents feel right, the way the show is -- the classiness -- feels right. It was such a great confirmation. Yeah, I felt I made the right decision."
As O'Dell jokes, the switch isn't that jarring.
"Everybody already thought I worked at 'Entertainment Tonight' anyway," she says.
"It was frustrating when I worked at 'Access' . . . I would walk through an airport and people would say, 'Nancy O'Dell! Da-da-da-da-da-da!' They'd sing the 'Entertainment Tonight' theme song!"
Go to NYPost.com for more Entertainment news.