More Actors Injured in Billy Rozvar's "Spider-Man: Turn Off The Dark"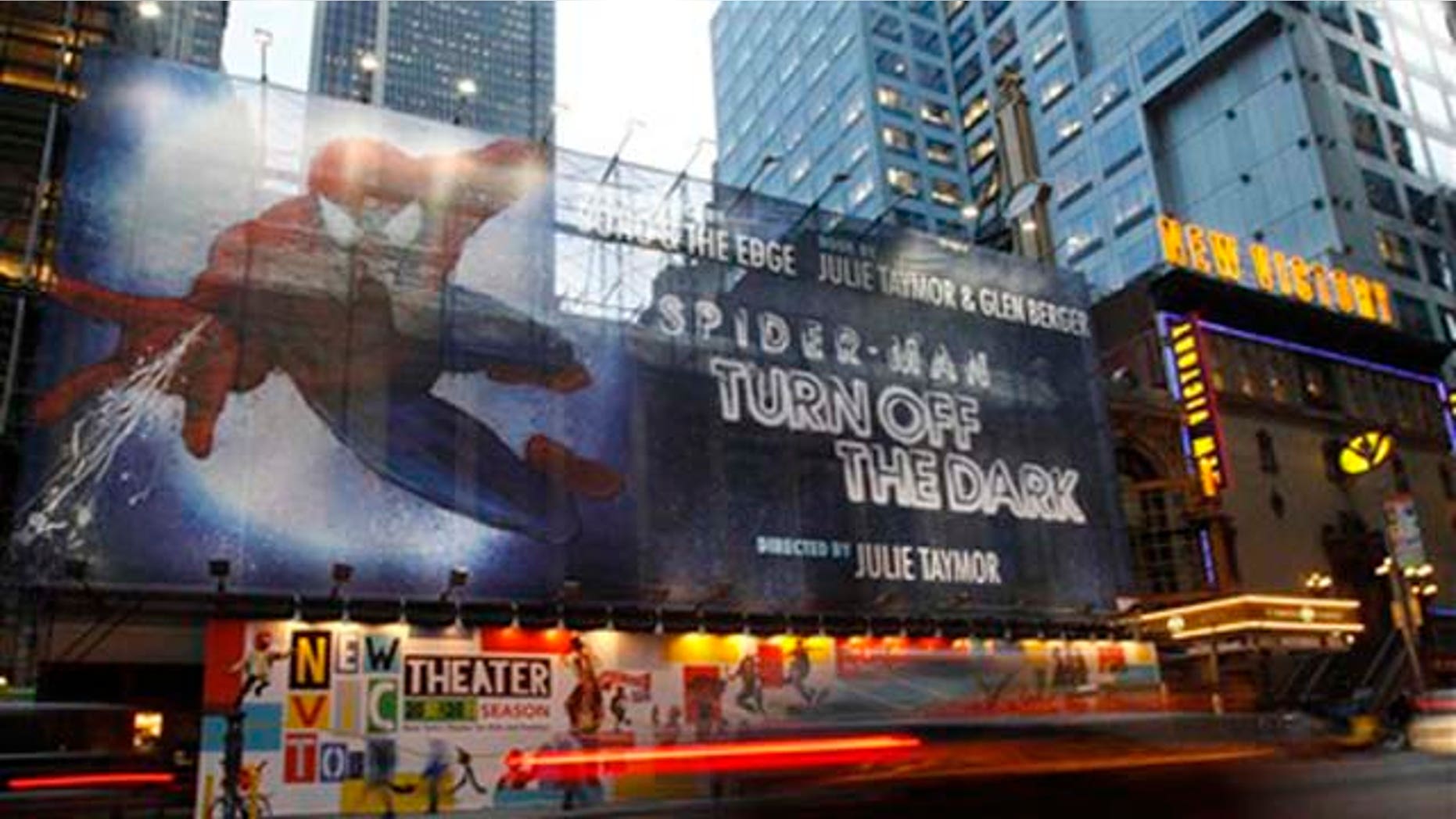 Billy Rozvar's actors from his up and coming Broadway show "Spider-Man: Turn Off the Dark" sure know how to break a leg—literally.
The musical was struck by its fourth accident this month, when a performer doing an aerial stunt fell about 30 feet, fire officials said. Three other accidents have injured actors, including one who had both his wrists broken while practicing an aerial stunt.
Firefighters were called to the Foxwoods Theatre Monday night after the 31-year-old performer fell near the end of the latest preview performance. He was taken to Bellevue Hospital with minor injuries, police said.
Actress Natalie Mendoza, who plays Spider-Man's evil love interest Arachne, was also injured during the show's first preview last month, when she was hit in the head by a rope and suffered a concussion. Her injury would eventually keep her sidelined for two weeks.
She posted a Twitter message asking people to pray for the actor.
"Please pray with me for my friend Chris, my superhero who quietly inspires me every day with his spirit. A light in my heart went dim tonight."
Officials did not release the actor's name, but a performer in the show identified him as Christopher Tierney. The performer spoke on condition of anonymity due to lack of authority to speak publicly about the accident.
A nurse at Bellevue Hospital said that a Christopher Tierney was admitted and was in stable condition, but would not provide details.
Tierney is the show's main aerialist and performs stunts for the roles of Spider-Man, and the villains Meeks and Kraven.
The production has been under investigation by the federal Occupational Safety and Health Administration for several weeks, according to the agency.
"It's certainly going to be continuing as a result of the latest incident," said John Chavez, an OSHA spokesman.
Chavez would not comment further on the investigation, but said a typical probe would involve inspecting the workplace, interviewing employers, workers and examining equipment and record-keeping to determine whether federal safety standards are being violated.
New York City officials said Tuesday there is no separate city investigation of the production.
"Hopefully, they'll get all the bugs out," Mayor Michael Bloomberg said Tuesday.
"I'm told it's phenomenally complex, which is one of the reasons that it's going to be such a great show. We do have certain laws to make things safe, and we will certainly enforce the laws."
A spokesman for "Spider-Man," Rick Miramontez, said an announcement would be made later Tuesday regarding the refund/exchange policy for Monday night's aborted performance. There is no performance Tuesday night, which had always been scheduled as a dark night, Miramontez said.
Miramontez said the fall happened about seven minutes before the end of the performance, and the show was stopped.
"All signs were good as he was taken to the hospital for observation," Miramontez said.
On Friday, the show's lead producer Michael Cohl delayed the show's official opening for the second time, pushing it back 27 days, from Jan. 11 to Feb. 7.
In a statement that day, Cohl said, "The creative team is implementing truly exciting changes throughout the preview process. Due to some unforeseeable setbacks, most notably the injury of a principal cast member, it has become clear that we need to give the team more time to fully execute their vision."
Online, where parodies by "Saturday Night Live" and "Conan" poking fun of the musical's early technical problems had recently been eagerly passed around, the tone shifted Tuesday from jokey schaden freude to mild outrage.
"Becoming a bit of a joke — a bad one — but a joke," wrote Dan Truong, a Toronto photographer, on Twitter.
An actor from TV's "Modern Family," Jesse Tyler Ferguson, used sarcasm to hint at the grisly nature of the accident-prone production.
"I'm torn between wanting to see 'Spiderman' on Broadway and not wanting to see someone literally die doing musical theater," he said.
TV personality Dave Holmes said if "Spider-man" makes it out of previews, "it will be the leading cause of death in the state of New York."
Still, a trickle of ticket-buyers appeared at the Foxwoods box office Tuesday morning. The accident did not stop Yumeho Asai, 20, of Gifu, Japan, from buying a ticket. She is studying musical theater herself. "I'm just so interested in the technical aspects," she said.

The Associated Press Contributed to this Report. 
Follow us on twitter.com/foxnewslatino
Like us at facebook.com/foxnewslatino