Miss USA 2017: The 6 contestants you need to know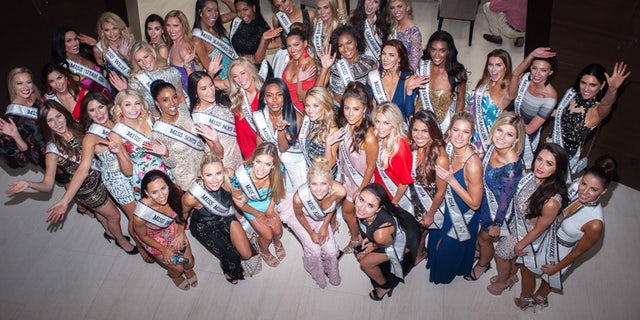 Women representing all 50 states and the District of Columbia are gearing up to showcase their talents at the 2017 Miss USA Competition this weekend — but only one will win the coveted crown.
The glitzy tournament, which takes place live on Sunday night from Mandalay Bay Resort and Casino in Las Vegas, will highlight a diverse lineup of ladies all with unique talents that best exemplify their hometown. However, a select few have quickly made their mark. Here's who we'll be keeping an eye on as the competition kicks off:
MISS USA 2006 TARA CONNER: TRUMP'S SUCCESS IS THE COUNTRY'S SUCCESS
Dinaleigh Baxter — Miss Ohio
Dinaleigh Baxter had an infection that almost killed her while she was in college. The 24-year-old suffered congestive heart failure, prompting her organs to begin shutting down. While doctors only gave her a 30 percent chance of living, she survived and now owns five tech LLCs. These days, Baxter is pursuing a law degree at Chase Law School in Northern Kentucky University and hopes to bring home the crown to show others in Ohio that women can achieve anything, despite challenges that may come their way.
Brittany Winchester — Miss Indiana
Just a few years ago, in 2015, Brittany Winchester was diagnosed with skin cancer when doctors discovered three basal cell carcinomas on her body. She beat the illness and made a full recovery, and the 27-year-old now uses her experience to help her community. "Skin cancer is the most common form of cancer in the United States," she said. "Prior to my personal experience, I never really heard a lot about this topic and loved to tan. It was these habits that likely caused the disease to progress." She now works to educate students in local Indiana schools about sun safety, as well as skin cancer awareness and prevention. "As Miss USA, I would use my voice to educate the world on how to prevent and protect themselves from getting this terrible disease." The graduate of Purdue University is currently working as an architectural interior designer and is pursuing a career as a fitness model. She shares a home with Kansas -- her 20-year-old cat.
FORMER MISS USA ALYSSA CAMPANELLA EXPLAINS WHY BLONDES DON'T ALWAYS HAVE MORE FUN
Kára McCullough — District of Columbia
Kára McCullough was born in Naples, Italy, but was raised in Virginia Beach by her mom, a now-retired United States Navy Chief Petty Officer. The 25-year-old has had the chance to travel throughout Sicily, Japan, South Korea and Hawaii thanks to her upbringing and she currently works for the United States Nuclear Regulatory Commission, which serves to protect public health and safety related to nuclear energy. McCullough earned her Bachelor of Science degree in chemistry with a concentration in radiochemistry from South Carolina State University and has a personal community outreach program, Science Exploration for Kids (SE4K). It features hands-on science activities, as well as match and science tutoring for children ages 6-11. "As Miss USA I not only want to inspire children and students to pursue STEM careers, but I want to start the inspiration during the early childhood development years," she explained. "Those years are the most influential in a child's life and I foresee a generation of STEM leaders in the energy sector that will enhance our world even more."
Baylee Jensen — Miss Utah
Baylee Jensen is no stranger to the pageant world. Her mother, Gretchen Polhemus, won Miss USA 1989 representing Texas. "I am the first daughter of a former Miss USA to compete for the same title," she explained. "I feel so blessed to be raised by a single mother who is classy, independent, caring and strong. To many peoples surprise, I was not raised or 'trained' to do pageants, but rather to follow my ambitions and be true to myself. My mom taught me to work hard for my passions and be gracious." The 23-year-old is aiming to make a name for herself as the eldest of five children and recently graduated with honors as a communication studies major and dual minor in sociology and criminal justice. While Jensen hopes to work in marriage and family therapy, she has kept busy participating in the Children's Justice Center. If she wins, Jensen aims to continue advocating for the rights of children in abusive situations.
Madelynne Myers — Miss Kentucky
Madelynne Myers has plenty on her plate these days. In addition to participating in this year's pageant, the 22-year-old will graduate this May from Vanderbilt University with a molecular and cellular biology major, along with a chemistry and Spanish minor. Myers plans on attending medical school after graduation to pursue her dream of becoming a surgeon. She's already done medical mission work in Africa, Nicaragua and Honduras, which has inspired her determination to show the world that poverty and gender inequality can be eradicated through education. "I am excited for the future of science and medicine," she said. "As Miss USA, I would empower women to pursue the study of science and to embrace, not back away from, professions that are male-dominated. I would continue to increase awareness of theimportance of healthy lifestyles."
MISS KENTUCKY SKIPS GRADUATION FOR MISS USA PAGEANT
Alyssa London — Miss Alaska
Alyssa London, an Alaska Native Tlingit tribal member, founded Our Culture Story in 2014 to focus on sharing the stories and art of her background to the world. The 27-year-old Stanford graduate is a celebrated speaker who enjoys advocating the importance of honoring multi-cultural identities. London travels throughout Alaska to visit schools, hospitals and other local venues to spread her message to women and children on embracing one's heritage. "What I learned at Stanford University is that we can make an impact in the world with the skills we develop during our time in school," she said. "It's very rare to have an Alaska Native/American Indian graduate from Stanford, and as a result of my time studying at this amazing institution, I have a thriving entrepreneurial spirit and mindset. As Miss USA, I would encourage other women to look to entrepreneurship to achieve independence and self-sufficiency."
Miss USA airs this Sunday, May 14 at 8 p.m. on FOX.