Miss Universe Names Her Hollywood Crushes, Shares Advice For Next Host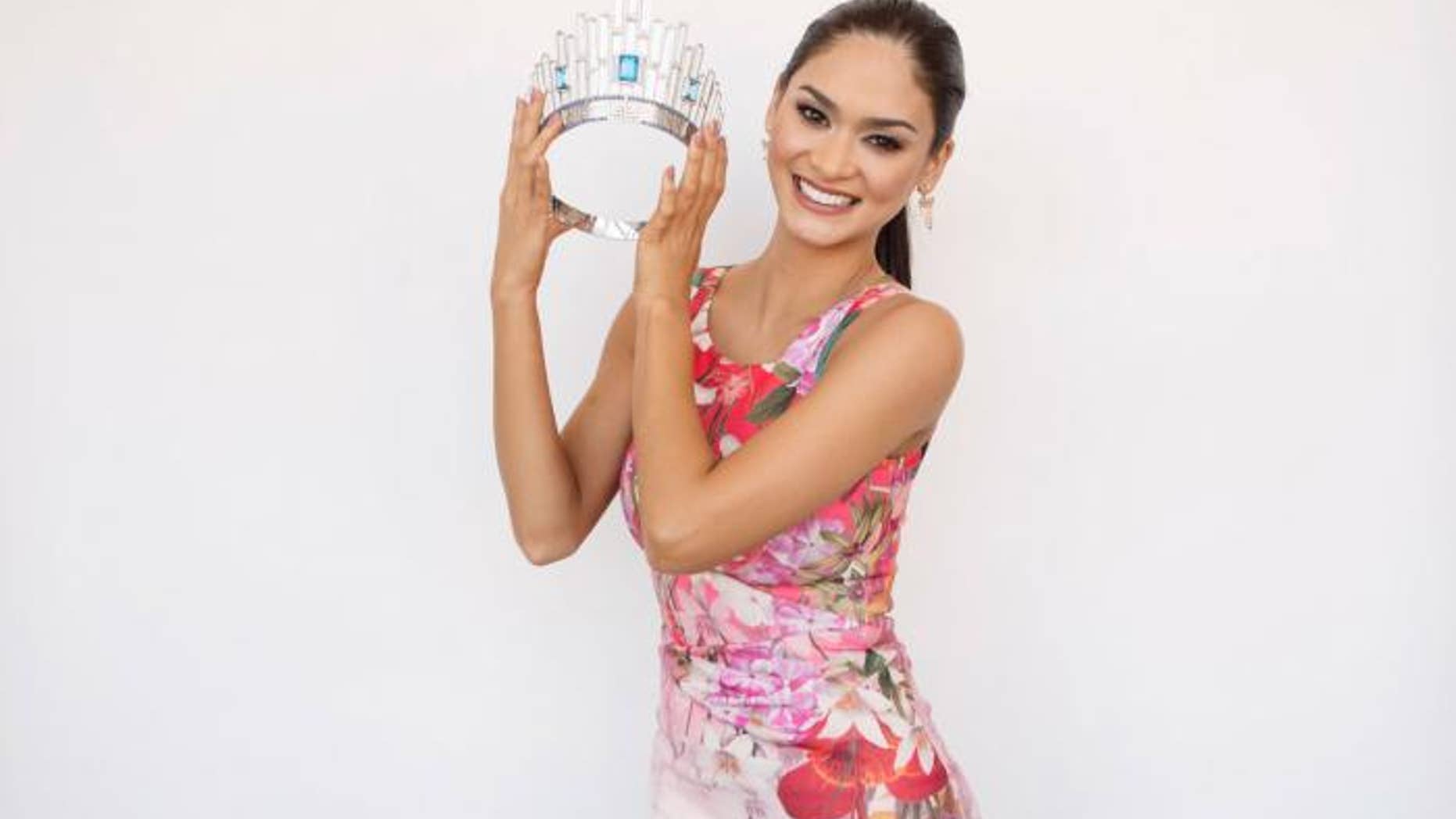 Of all the people in the world, it's hard to believe that Miss Universe is single.
"I'm wondering to myself like, 'What am I doing wrong?' I thought it would be easier [being Miss Universe], but there's nobody!" exclaims Pia Alonzo Wurtzbach. "Maybe it's better like this because I'm the type of person that — when I fall in love — it can be quite fatal," she laughs.
In any case, the 26-year-old beauty from the Philippines is thoroughly happy being single. And that's probably for the best, especially with such a busy year ahead.
"I'm not looking, but if a guy comes along and we connect, then I'm open to that. But if not, I'm OK, because it would be unfair for the guy anyway … I will be so busy. I don't want to be in a relationship where I can't invest time into it," she says. (On the other hand, Wurtzbach does admit to having celebrity crushes on James Franco and Chris Evans, and says she wouldn't mind if FNM wants to play cupid and hook her up.)
Relationships aside, the New Year is already providing Wurtzbach with plenty of new opportunities. She just celebrated New Year's Eve in New York City's Times Square, where she also got the chance to catch two hit Broadway shows ("Kinky Boots" and "Finding Neverland"). But maybe most satisfyingly of all, Wurtzbach says she's already put the recent Miss Universe fiasco behind her.
The debacle, during which host Steve Harvey incorrectly announced Miss Colombia as the winner, caused its fair share of controversy and even sparked a debate as to whether the two women should share the crown. Untimately, though, it was decided that Wurtzbach had earned the title, but she assures us there's no bad blood between her and Miss Colombia.
"I messaged her on her birthday, which was on Christmas day," she says. "I wished her well and she replied to me."
Furthermore, Wurtzbach wouldn't even mind seeing Harvey get a second chance. "I want to see him back, because I really like his hosting style. It makes [the contestants] feel very relaxed and makes us feel more comfortable, and that benefits the judges and the viewers. Even though there was a big mix-up towards the end of the pageant, I think the good thing about [Steve Harvey hosting] is that we got the attention of a lot of people."
But Wurtzbach shouldn't be so modest; she's equally responsible for grabbing attention at this year's ceremony. It's been 42 years since the last Miss Philippines has won the crown, and Wurtzbach herself has made three attempts at competing before taking home the title. But through hard work and determination, she was more than prepared.
"I don't like losing," she laughs. "It's really my dream. I was so sure that this was meant for me. That's why I kept pushing and joining again and trying. Good thing I didn't give up right away, because I was right."
Wurtzbach, who is also an actress, is now eager to start working on her platforms. This year, she'll be focusing on HIV/AIDS and the growing epidemic in the Philippines, and she's planning to get more involved with relief operations in areas affected by natural disasters. If that wasn't enough, our newest Miss Universe will also put her efforts into the fight against cyber-bullying.
No matter what she does, it's clear that Pia Alonzo Wurtzbach is destined to shine as a positive role model for women around the world, and she'll continue to be a positive role model long after she gives up her crown to the next Miss Universe.
Oh, and speaking of that — Wurtzbach would like to share one simple tip with whomever gets chosen to host next year's show: "My advice would be to watch the 2015 pageant," she laughs.