Meghan Markle's ex-husband reportedly skips the country ahead of her wedding to Prince Harry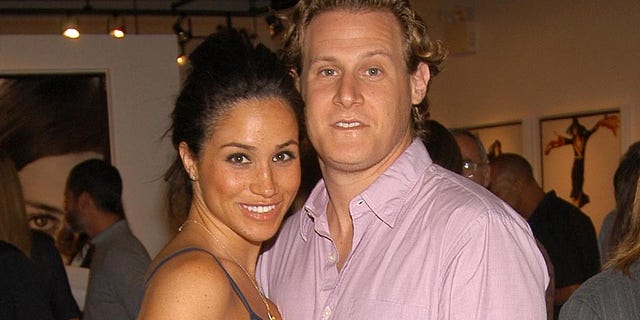 WINDSOR, England – The royal wedding is taking place here, in the U.K., and Meghan Markle's ex-husband Trevor Engelson is based in Los Angeles, but the film producer reportedly wants to get even farther away from the festivities.
Us Weekly reported Markle's ex-husband was leaving the U.S. ahead of Markle's Saturday wedding to Prince Harry so he could avoid the buzz surrounding the wedding.
"Trevor is heading out of the country this weekend to escape the mania," a source claimed to the magazine.
The source said Engelson was considering flying to South America.
Markle and the 41-year-old tied the knot on Sept. 10, 2011 at the Jamaica Inn in Ocho Rios, Jamaica where they had a casual wedding in front of 102 guests. It was the same year the USA Network starlet took on the role of Rachel Zane in the series "Suits."
Prior to the marriage, Markle and Engelson dated for six years while they were both pursuing their high-profile careers.
In September 2013, a source confirmed to Us Weekly the couple "quietly separated." While it's not exactly clear why the pair parted ways, they cited "irreconcilable differences." One insider hinted to Woman's Day at the time that Markle's hectic schedule to film "Suits" in Toronto while her husband resided in Los Angeles made married life difficult for the two.
Engelson has kept busy in Hollywood since the breakup. FX Networks reported that his role as a producer took off with the 2007 film "License to Wed," starring Robin Williams, John Kransinski and Mandy Moore. Then in 2009, he produced "All About Steve" with Sandra Bullock and Bradley Cooper. In 2010, he worked on the 9/11-themed drama "Remember Me" with Robert Pattinson, of "Twilight" fame.
Engelson is currently producing "Snowfall," a series that explores the early days of the crack cocaine epidemic in Los Angeles during the 1980s. He's also executive producing the upcoming "Heathers" remake for television.
Fox News' Stephanie Nolasco contributed to this report.