Meghan Markle wanted to be 'Diana 2.0,' royal biographer claims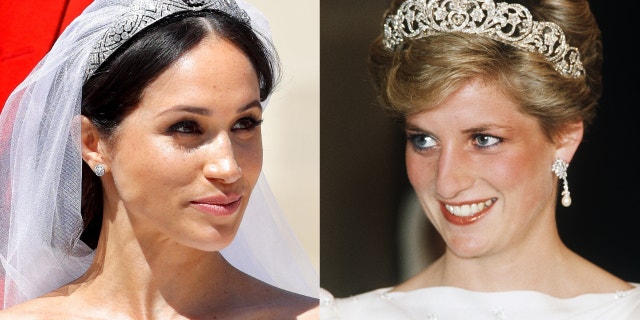 Meghan Markle reportedly wanted to be "Diana 2.0," but it backfired — and now she's simply "Meghan 1.0," the late Princess Diana's biographer claims.
7 TIMES MEGHAN MARKLE AND PRINCE HARRY BROKE ROYAL PROTOCOL
Andrew Morton claims that the Duchess of Sussex's post-royal wedding narrative is an uncanny parallel to that of Prince Harry's mother, Diana, Princess of Wales.
"When she was a teenager Meghan talked one day about being 'Diana 2.0' but for now she is more accurately described as Meghan 1.0," Morton wrote in a column for The Telegraph on Saturday, adding, "Just as Meghan has quickly morphed from Duchess Dazzling to Duchess Difficult, so in a matter of months Princess Diana was transformed from fairytale princess to a 'fiend and a monster.'"
CLICK HERE FOR THE FOX NEWS APP
Morton pointed out the glee with which the press reported on Markle's bodyguard and assistant quit after mere months working for the Duchess.
"She was blamed for what was gleefully described as 'malice at the palace,' the departure in quick succession of many of Prince Charles's long-serving staff including his private secretary, valet and Scotland Yard bodyguard," Morton wrote of Diana in comparison with Markle.
MEGHAN MARKLE FACING SCRUTINY, FAMILY WOES 9 MONTHS AFTER BLISSFUL ROYAL WEDDING
Morton also claims that neither Markle nor Diana were prepared for life as royal, and all the scrutiny that comes with it — from both the public and the palace itself.
"Though Meghan and Diana were from totally different backgrounds, generations and upbringing, neither were remotely prepared for their royal lives that lay ahead. Meghan was red-carpet, not royal family-ready," Morton writes, adding that paparazzi pursued Diana much more aggressively. Morton claims that Prince Harry and Prince William have each used more stringent privacy laws to protect their wives from the prying eyes and paparazzi lenses than their parents faced.
MEGHAN MARKLE'S ESTRANGED HALF-SISTER DEMANDS LIE DETECTOR TEST OVER LETTER'S CLAIMS
"Meghan asked the Press Office to deny the drift of negative stories – but she was confronted with the age-old palace argument that if they denied one they have to deny them all," Morton noted of Markle's dealings with reports about her life, and especially about rumors of a feud with Kate Middleton.
MEGHAN MARKLE 'FED UP' WITH KATE MIDDLETON FEUD RUMORS
Meghan, like Diana, was speculated to have had friends go to the press to counter negative stories she believed were planted by her estranged father, Thomas Markle, and half-sister Samantha Markle, culminating in Thomas' publication of a private letter from Meghan begging him to ease off on the media interviews.
WHY ROYAL SECURITY FORBIDS MEGHAN MARKLE FROM CLOSING HER OWN CAR DOOR
Both Meghan and Diana also reportedly fell out with their own families after becoming royalty: Meghan with her father and his family and Diana with her mother.
Morton also claims that Meghan — who he previously called a "social climber" — was displeased that she didn't get a ton of credit for performing 100 royal engagements and releasing her Grenfell Tower charity cookbook last year.
PRINCE WILLIAM'S ADVICE TO PRINCE HARRY ABOUT MEGHAN MARKLE 'JUST RILED' HIM: REPORT
Morton explained, "This disconnect between the reality of Meghan's life and the unfair way she sees herself now portrayed has doubtless encouraged her to take a leaf straight from Princess Diana's playbook — to go over the head of the Palace and allow her friends to speak on her behalf."
KATE MIDDLETON, MEGHAN MARKLE TARGETED BY CRUEL SOCIAL MEDIA TROLLS
He adds, "Both women shared a humanitarian mission, both charismatic, their glamour offset by a spiritual dimension, a profound belief that they had a calling to use their position to make a difference."
Morton concludes, "It is remarkable how these two women, lifetimes and worlds apart, have enjoyed so many Sliding Doors moments."