Meghan Markle, Prince Harry breaking royal protocol? 7 times the couple strayed from tradition
All eyes have been on Prince Harry and Meghan Markle since their stunning wedding ceremony in May. Harry and the Duchess of Sussex have forged their own path as a royal couple — often straying from tradition in the process.
While Markle has adhered to some British royal etiquette standards, the former actress hasn't completely transformed her style and social behavior. And Harry has followed suit, as he often displays public affection for his new bride.
"Their Royal Highnesses The Duke and Duchess of Sussex are pioneering a new, relaxed, tactile branch of the monarchy," William Hanson, who describes himself as the U.K.'s "leading etiquette expert and coach," recently told The Daily Mail while discussing Markle's latest fashion faux pas.
Many royal enthusiasts tend to agree — the pair is unlike any other royal couple, especially compared to Prince William and Kate Middleton, the Duchess of Cambridge.
MEGHAN MARKLE'S APPARENT 'BAD' HABIT SPARKS ROYAL DEBATE
Here's a list of seven times Meghan and Harry have, both as a couple and individually, broken "royal protocol" in recent months.
PDA moments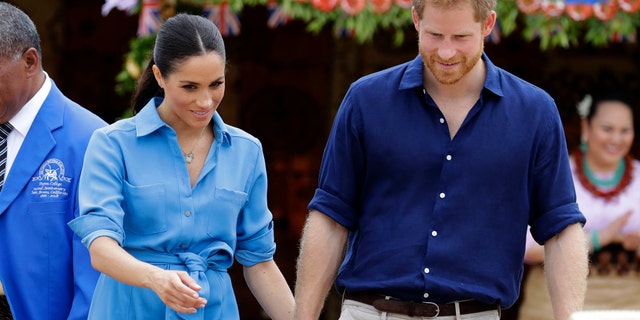 First of all, the parents-to-be don't shy away from showing their fondness for one another. They're often caught holding hands, hugging and even sneaking an occasional smooch or two.
While there isn't an official rule on PDA, The Sun points out it's generally considered "uncouth" of a royal couple. Their public affection should be based on the formality of the event they're attending and reflect the queen's behavior. Unlike Prince William and Kate Middleton, Harry and Markle have proven to be extremely affectionate in public.
"It is very clear that William and Kate are emotionally close, however, they do not seem to feel the need to prove their love – particularly when on official state business," Robin Kermode, a body language expert, told The Daily Mail. "They come across as a strong, independent couple and while they are always on show, they do not feel the need to 'show' their love for each other to the world."
Pocket problem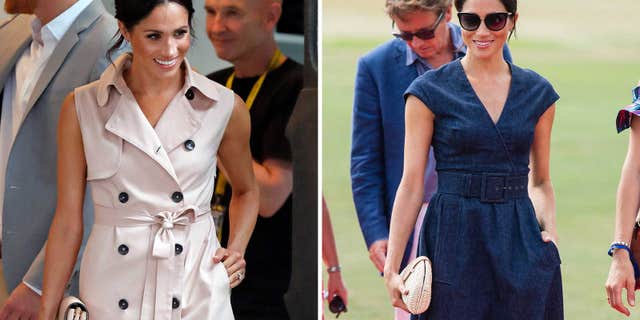 Is Markle getting "too casual" for a royal? The Duchess of Sussex's fashion choices during her first royal tour alongside husband Harry sparked debates among fans.
During her 16-day South Pacific tour, Markle sported several different looks — and unfortunately suffered some wardrobe malfunctions along the way. But there was one particular feature included in her attire that royal etiquette experts took issue with: pockets.
"There is good casual and there is bad casual. Placing a hand in the pocket is too relaxed and unprofessional..."
On Oct. 29, Markle donned a white tuxedo dress designed by New Zealand's Maggie Marilyn during an event at Courtenay Creative in Wellington. The stunning outfit drew praise from fans, but royal experts were critical of the relaxed look.
"There is good casual and there is bad casual. Placing a hand in the pocket is too relaxed and unprofessional, however dressed down Harry and his wife may have been," Hanson told The Daily Mail.
But some royal fans – particularly women – argued Hanson's critique may be too harsh and praised the duchess' bold fashion choice.
Going barefoot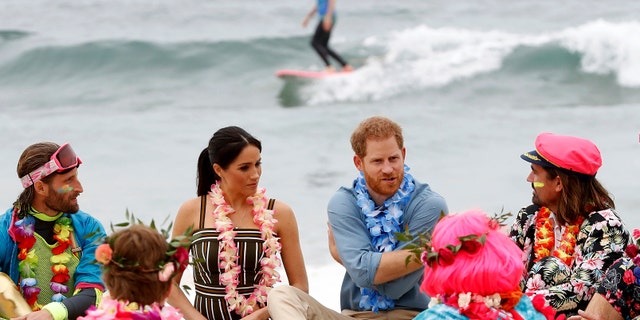 The royal couple kicked off their shoes in the sand during a visit to Bondi Beach in Sydney, Australia, last month. The move is very uncommon for royals.
The pair met with a local surfing community group, known as OneWave, a mental health awareness group, during their trip. The royals and members of the group formed a circle on the beach and shared their various experiences.
During that time, Markle apparently opened up about her pregnancy.
"Meghan told me that pregnancy was like having jet lag. She said she was up at 4.30am this morning doing yoga in her room as she couldn't sleep," one woman told a Daily Mail reporter.
Markle was also wearing red toenail polish, which is believed to be "vulgar," according to royal standards, Express reports. Queen Elizabeth, in particular, favors subtle nail polishes — such as a pale pink, the British newspaper claims.
Selfie time
Both Harry and Markle aren't afraid to get up close and personal with fans.
Harry recently broke a royal rule recently when he stopped to take a selfie.
While greeting fans at Auckland Viaduct Harbour in Australia on Oct. 30, the prince stopped to talk to Otia Nante, a 6-year-old boy who also lost his mother at a young age, News.com.au reports.
PRINCE HARRY COMFORTS YOUNG BOY WHOSE MOTHER PASSED AWAY
"Life will always be all right, you know that? I've made it to 34 years old, and life is great. I have a beautiful wife and a baby on the way. Your life is going to be sorted. Don't you worry about that," Harry was captured on video telling the boy. Afterward, Prince Harry agreed to pose for a picture with Nante.
That's not the first time Harry has impulsively broken tradition.
In early October, the royal kissed an elderly woman on the hand in Sussex, England, after she commented on how beautiful his bride was.
"Very nice to meet you," he told the blushing fan, according to Entertainment Tonight.
Setting the date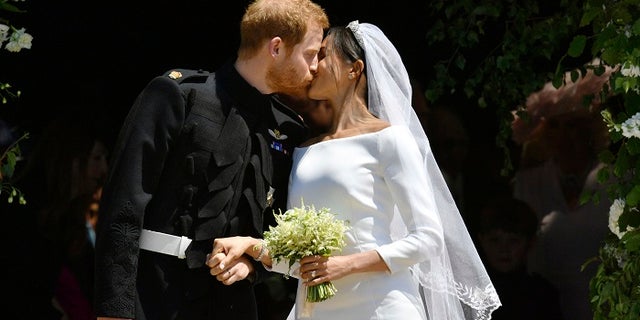 Harry and Markle set a May 19 date for their wedding, which took place at St. George's Chapel at Windsor Castle. The date fell on a Saturday — an unusual move, considering most British royal weddings take place on a weekday.
Again, there's no official rule, but royal pairs typically schedule weddings on Fridays — thus, allowing England to declare the day a national bank holiday to ensure locals can catch the action, according to Marie Claire.
MEGHAN MARKLE AND PRINCE HARRY'S ROYAL WEDDING: EVERYTHING YOU NEED TO KNOW
Prince William and Middleton stuck to tradition with their April 29, 2011 wedding, which fell on a Friday.
"We want to mark the day as one of national celebration, a public holiday will ensure the most people possible will have a chance to celebrate on the day," then Prime Minister David Cameron announced at the time, per The Telegraph.
Holiday season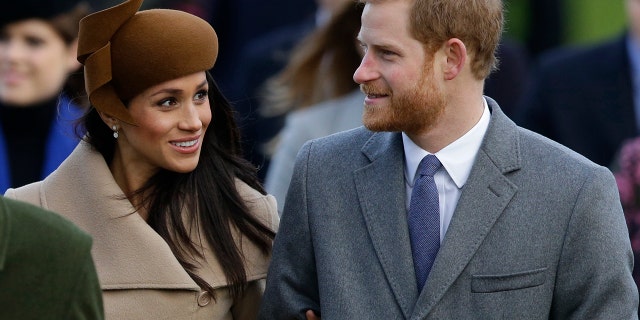 Roughly a month after her engagement to Harry, Markle joined the royal family to celebrate Christmas. In fact, that's when she was officially welcomed into the family by Queen Elizabeth.
Markle joining the royal family during Christmas (her first public outing with the family) was unusual because new members are usually invited to holiday events only after they are married, according to The Telegraph. Kate Middleton was also only welcomed into the family after she married William.
MEGHAN MARKLE JOINS ROYAL FAMILY FOR FIRST CHRISTMAS TOGETHER
Markle was spotted walking next to Middleton as she held Harry's arm while arriving at St. Mary Magdalene Church in Sandringham for a traditional Christmas service in 2017.
No pantyhose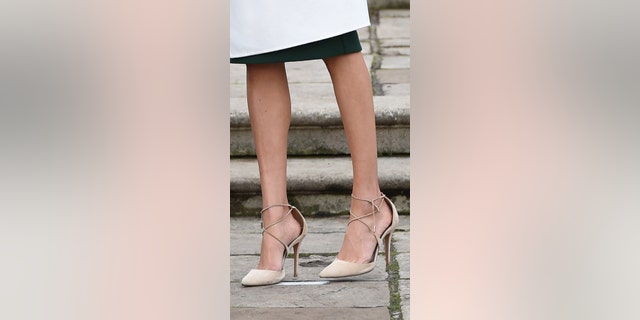 Harry and Markle made their first appearance as an engaged couple, briefly posing for photographers on the grounds of Kensington Palace, hours after their engagement was announced on Nov. 27.
Wearing a blue suit and tie, Harry said he was "thrilled," hinting that the proposal was romantic. Though Harry looked dapper, most eyes were on Markle (and her bling, of course).
MEGHAN MARKLE AND PRINCE HARRY'S ENGAGEMENT PHOTOGRAPHER REVEALS 'JOYFUL' SHOOT DETAILS
The former "Suits" star sported high heels, an emerald green dress and a white trench coat. There was one thing Markle was missing, though: pantyhose, an unspoken royal protocol in England. According to The Cut, Queen Elizabeth has been wearing nude tights for more than 90 years.
Fox News' Katherine Lam contributed to this report.