Meghan Markle, Prince Harry's wedding invitations mailed, details unveiled
NEWYou can now listen to Fox News articles!
Meghan Markle and Prince Harry's wedding invitations have been mailed to some 600 lucky guests to celebrate the big day.
Kensington Palace unveiled on Thursday a sample of the couple's invitations, which were sent "in the name of His Royal Highness The Prince of Wales" for the May 19 wedding at St. George's Chapel, in Windsor Castle.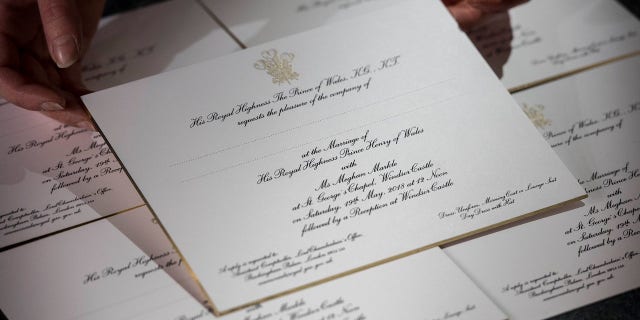 Along with the 600 people invited to the service, another 200 close friends received an invitation to an after-party at Frogmore House.
"Guests have been invited to the service at St George's Chapel and to the lunchtime reception at St George's Hall, which is being given by Her Majesty The Queen," the palace stated. "Later that evening, around 200 guests are being invited to the reception at Frogmore House given by The Prince of Wales."
MEGHAN MARKLE AND PRINCE HARRY'S ROYAL WEDDING: EVERYTHING YOU NEED TO KNOW
The invitations were created by Barnard and Westwood, a printing company that has worked with the royal family since 1985. The invitations featured letters in black ink with the Prince Charles' Three-Feathered Badge printed in gold on the top. The invitations were burnished, gilded on the edges and completed with a gold border.
"Lottie Small, who recently completed her apprenticeship, printed all of the invitations in a process known as die stamping, on a machine from the 1930s that she affectionately nicknamed Maude," the palace tweeted.
A photo of the invitations shows the message to guests: "His Royal Highness the Prince of Wales, K.G., K.T. requests the pleasure of the company of [guests] at the marriage of his royal highness Prince Henry of Wales with Ms. Meghan Markle at St George's Chapel, Windsor Castle on Saturday, 19th May 2018 at 12 noon followed by a reception at Windsor Castle."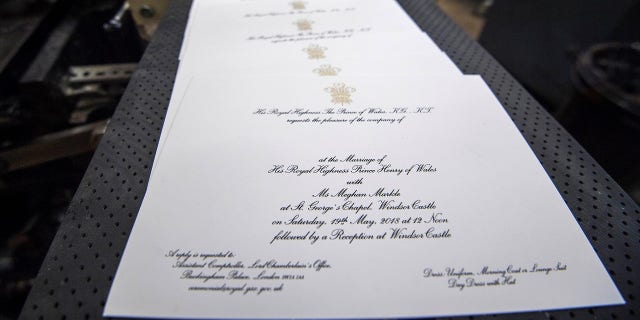 MEGHAN MARKLE TO BE MADE INTO A MADAME TUSSAUDS' WAX FIGURE
It's unclear yet who made it on the official guest list.
On Feb. 27, Spice Girls member Mel B said on the talk show "The Real" that she will attend the couple's nuptials — and revealed that her fellow bandmates were invited, too. The singer didn't confirm if the pop group would perform at the wedding reception.
The dress code for the wedding is uniform, morning coat or lounge suit, and day dress with hat.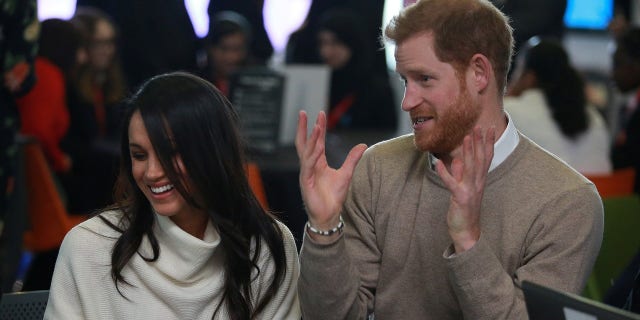 MEGHAN MARKLE, PRINCE HARRY REVEAL UNIQUE WEDDING CAKE PICK
Harry and Meghan have been revealing details about the royal wedding in the months since announcing their engagement last November.
Though only 600 people were invited to the service and lunchtime reception, the couple will be opening the grounds of Windsor Castle to 2,640 people — and 1,200 of those will be members of the public. Another 200 people will represent charities and other organizations Meghan and Harry support.
Fox News' Madeline Farber contributed to this report.