Maxine Waters wins media award, uses speech to bad-mouth Trump to newspaper publishers: 'I don't like him'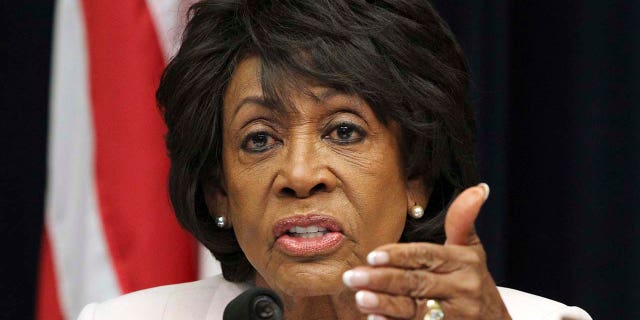 The National Newspaper Publishers Association honored Rep. Maxine Waters with a National Leadership Award on Friday and the Democratic leader used her acceptance speech to bad-mouth President Trump and call for his impeachment in front of media heavyweights.
"It is no secret… the president doesn't like me and I don't like him either," said Waters, D-Calif., as executives from predominately black-owned news organizations laughed.
"I want you to know that I didn't just get started. I knew that this president should not be in the White House when I saw him, and the way that he conducted himself in the primary campaign," Waters continued.
Waters and Trump have taken shots at one another for months, with Waters repeatedly calling for Trump's impeachment. In June, Waters encouraged protesters to confront Trump Cabinet members publicly to shame them over the administration's policies.
Meanwhile, Trump has repeatedly blasted Waters and House Minority Leader Nancy Pelosi, both California Democrats, and sought to cast them as the face of the party.
"The face of the Democrats is now Maxine Waters who, together with Nancy Pelosi, have established a fine leadership team," Trump tweeted in June. "They should always stay together and lead the Democrats, who want Open Borders and Unlimited Crime, well into the future....and pick Crooked Hillary for Pres."
Trump took another dig at Waters in July, again calling her "the new leader" of the Democratic Party and mocking her as a "low-IQ individual."
"Honestly, she's somewhere in the mid-60s, I believe," Trump added.
"No, I don't like him. Yes, I have worked against him. No, I didn't go to his inauguration. No, I didn't go to his State of the Union. No, I do not go to the White House. No, I do not engage with him," Waters said as the NNPA crowd erupted with applause. "All I want for him and about him is to be impeached and get him out of the White House."
Waters then admitted that she would "go after" Vice President Pence if Trump were to be removed from office.
"We're the patriots of this country," she told the crowd before declaring the Republicans are "scared" of President Trump.
"They won't denounce some of the terrible things that he's doing," Waters said.
The crowd of NNPA members clearly shared Waters' disdain for Trump and celebrated her every word. The group's slogan is "The Voice of the Black Community." The NNPA bills itself as a "trade association of the more than 200 African American-owned community newspapers from around the United States" that has been around for 75 years.
"Since its founding 75 years ago, NNPA has consistently been the voice of the black community and an incubator for news that makes history and impacts our country. As the largest and most influential black-owned media resource in America, NNPA delivers news, information and commentary to over 20 million people each week," the group's website states.
Fox News' Brooke Singman and Gregg Re contributed to this report.